Love for blogging is the thread that binds us all. This connection is full of passion and creative ideas! Blogging for us, is not just a mode of writing but the best form of expression and forging new connections. So, we have made #CelebrateBlogging the motto of our lives!
#CelebrateBlogging as a concept was born when we launched Game of Blogs last year. The blogs which won Game of Blogs are now published into a book which will be launched at #WIN15! After the super success of our initial attempt to make blogging take centrestage, we are back with another activity this year.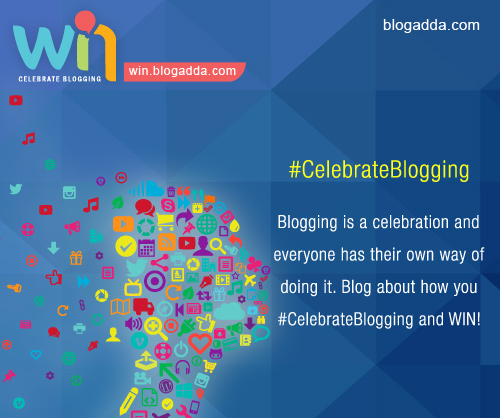 Now we want to take #CelebrateBlogging and initiate a very important conversation with you. Just like people across the country celebrate every festival in different ways, we know that blogging also has many ways of celebration and we want to hear YOURS! We know you love blogging. And we love it when you blog!
That is why we welcome you to join us in the run up to #WIN15 – India's largest Blog Awards! So go ahead and blog about how you #CelebrateBlogging and send it to us! We are intrigued to see what you write!
Prizes:
The top 3 blog posts get a free ticket to attend #WIN15 on 20th September! 
Add the line – "I am writing for #WIN15 – BlogAdda's Blog Awards on how to #CelebrateBlogging! You should too!"
The deadline for this activity is midnight of 12th September, 2015, so make sure your blog reaches us before that!
Here is how we are going to #CelebrateBlogging at #WIN15!
Listen to inspiring influencers speak about their experience within the Blogosphere!

Attend Unconferences filled with peers from the blogging world.

Witness a unique book launch. What makes it unique? It is the Game Of Blogs book, India's first collaborative blogging book which will be launched at #WIN15! Wouldn't it be awesome to celebrate that with the authors?

Attend in-depth workshops to learn new skills and be up to date at the art of blogging.

Get to know our bloggers better by meeting them at a daylong event of blogging!
Tell us how do you #CelebrateBlogging and submit your posts to us. Purchase your tickets for #WIN15. You're in for a 'referral' treat if you do so. Here's more about that.