Doing things alone is absolutely fine, but the thrill of doing things with friends is out of this world! That's what we believe at #WIN15. Hence we present, tada, THE REFERRAL SCHEME. This scheme is all about getting you to #WIN15 with the satisfaction of arriving on a minimal expenditure! Not just that, it also gives you the good karma of letting your friends come to #WIN15 at great rates.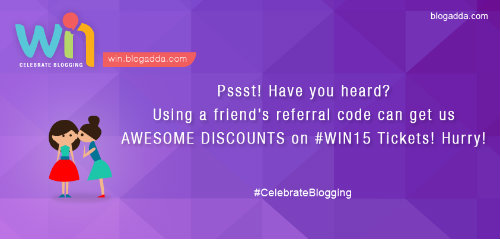 Opportunities like this don't come along every day, so better take advantage of it. Referral codes are the best gateway to such a prestigious event like #WIN15! Trust us, you will be taking home a lot more value than the ticket price from #WIN15, but we just couldn't resist making the deal even sweeter for you with the referral code! So this is how the referral code system works.
Buy your #WIN15 tickets here and you will receive a unique referral code.

Give it to your friends and family to use while they purchase their tickets. Spread the message through social media so that the maximum number of people benefit.

Every person who uses your referral code gets a 15% discount on their tickets.
You get a 10% cashback on your ticket EVERY TIME someone uses your code. (Up to a limit of Rs. 1500)

So if 15 friends use your referral code, you get your entire ticket money back! Woop Woop! Not to mention the fact that you will earn goodwill in getting your friends discounted #WIN15 tickets!

Remember, this referral code is valid only till 10th September, 2015, so get sharing NOW!
So don't wait too long! Get your tickets and referral codes right away! The sooner you get it the more people you can distribute it to and the higher possibilities of you getting cheaper tickets!
P.S. – The amazing people who have already booked your tickets, worry not! Your unique referral code will be arriving in your inbox soon!  🙂