When a guest enters your home, the first thing that he is greeted by is the smell of your house. It is up to you to decide whether that smell is a pleasant one or an unpleasant one. The odour of utensils, clothes, food etc. can test the tolerance of almost anyone.  Running a household is no easy task and it is sometimes difficult to make sure your house smells great exactly when the guests arrive. Our bloggers shared the incredible ways in which they battle their household odours in the #SmellyToSmiley Contest in association with Ambi Pur.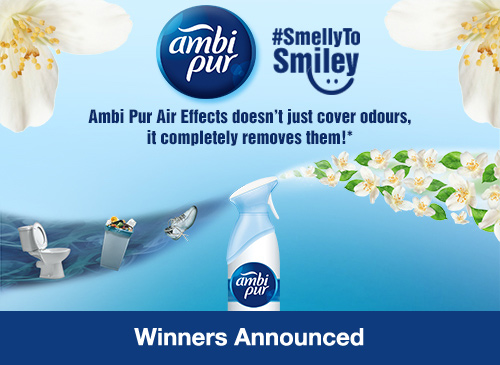 Our contest was all about sharing the secrets in which you battle the household odors. Thank you because we too have got to know some cool ways to make our home smell great all the time. We now know how some people impress guest at house parties and family gatherings at home. Now that these Smiley secrets are out, it's time to announce the winners!
1st Prize and the iPad goes to – Michelle Furtado
2nd Prize and the iPad Mini goes to – Kunal Chheda
Now let's take a look at the bloggers who win vouchers worth Rs. 1000 each
Varina Rasquinha
Ranjan Varma
Meghna Mukherjee
Amar Naik
Congratulations to the winners! Keep yourself tuned to participate in exciting activities.
Before you exit, make sure you book your seat for #WIN15 and #CelebrateBlogging at it best. You can also use the referral code that enables you and your friends avail exciting discounts. So hurry! The best of blogging, interactive workshops and speakers await your presence. Cheers 🙂