It is jokingly said that it's impossible to guess what a woman wants. But when it comes to gender equality, this statement is no joke. While talking of giving women the equal status that they deserve in society, taking women's wants into consideration is essential. The only way to knowing a woman's wishes is to give her a voice, and this is exactly what the India Today Woman Summit 2015 hopes to achieve.
Blog for the #WomenPower activity at BlogAdda in association with India Today Woman Summit 2015. Write about 'Do women want to be treated specially or equally? – Do men know the difference?'.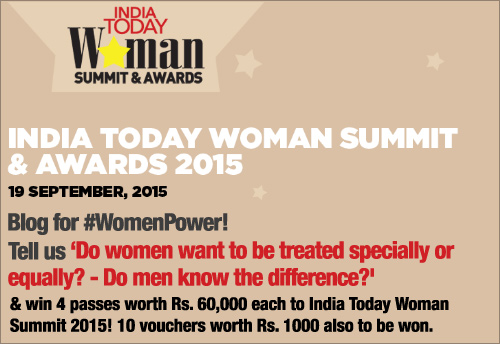 'What women want?' isn't an easy question to answer. Our country practices positive discrimination to alleviate a women's status and empower them. In an ideal world, such concessions wouldn't be necessary to give women their rightful status.Feminism and women empowerment may seem like different terms at first glance, but they are in fact inter-related. Efforts to empower currently subjugated women will lead to the ideal world that feminists dream of.
Many a times in India we wonder which one works better? Are we to help women who have lived under the patriarchal system for so long? Or must we completely shed off the power-play and bring an equilibrium in the balance of power? We don't really know. But, the core answer to gender disparity lies in answering these questions. As well-read bloggers we know you can answer this best!
India Today is organising Woman Summit where influential women will speak and have colourful discussions around the topic of gender equality. Being socially active citizens of our country, we're sure you would want to witness the discourse! So participate in the contest now and be there.
Prizes
Top 4 blog posts get entry passes to India Today Woman Summit on 19th September worth Rs. 60,000 each!
10 of the top blog posts get vouchers worth Rs. 1000 each
So submit your posts to us and be a part of this prestigious event on September 19th, 2015
submit button
Mandates For the Activity:
The word limit for each blog post is a minimum of 400 words.
Every blogger can submit maximum up to 3 blog posts for this activity.
Only blog posts sent through the submission form will be considered valid.
The blog posts have to be submitted before midnight of September 15th, 2015.
Put your thinking caps on and start writing! Every person's answer makes a difference as society is built collectively and not individually. So start writing on this interesting answer now!