'Life isn't about finding yourself. Life is about creating yourself.' – George Bernard Shaw 
To create yourself you need to be inspired, and sometimes inspiration comes from within. But simply knowing this fact isn't enough, you need to be surrounded by inspiring people who will evoke the need in you to create! So this weeks WOW is all about telling us how inspiration arrives from within!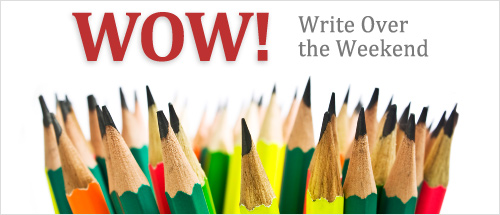 This week's WOW prompt is – 'Inspiration is within'
What resides inside you? It is the energy to be your best. To do something that will give you the power to make a mark in this world! Agree? Take this creative writing as an inspiration itself to make your weekend magical with words!
Get, set, blog!
Remember, you have time only till Sunday midnight to submit your blog posts and have a chance to get the WOW badge!
Include this code:
This post is a part of Write Over the Weekend, an initiative for Indian Bloggers by BlogAdda.
Good news! There is now an easier way to submit your WOW entries, so just click on the submission link below for your WOW entry to be considered valid.

Every weekend, we give creative writing prompts for you to write blog posts on! Hope you enjoy our creative writing inspiration for this week. 🙂
All those who are featured in WOW can now flaunt the WOW badge on your blog. Download your badge now!
Book your tickets for #WIN15 and get referral codes to avail discounts!