In today's world, it is important to make 'meaningful' profits in all sectors. We cannot be entirely driven by our capitalist instincts. Firms as well as individuals need to take some responsibility and make the lives of those around them simpler. Because they are consumers, the people for whom firms design products and services. Profits are of course important, but these profits should not come at long term damage or losses. With the help of CSR (Corporate Social Responsibility) we take a leap from profits to 'meaningful' profits. There's one place where all of these aspects will be explored, which is the ACEF event on September 12, 2015.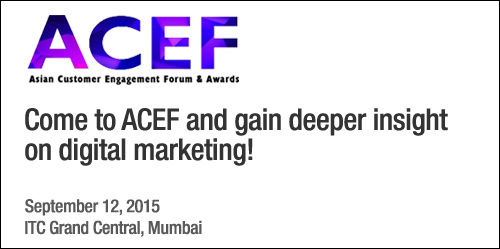 Corporate Social Responsibility is widely spoken about by those who work in corporate lives. We're all passionate about doing good and making the world a better place. So when a corporate system takes social responsibility in consideration, it has creates positive resonations across the community. But how much is really known about Corporate Social Responsibility? How much of our CSR initiatives are taken into account for when it comes to speaking about the bigger picture? A lot is to be discovered, and one of the most important discovery is how we use the social media as a platform to connect with customers. Get answers for all of these and more at the ACEF event.
How do we make CSR a beneficial contingency for companies? ACEF wishes to focus upon this topic and engage the audience with some vibrant discussion. Here's the exciting schedule for the event.
Topics to be discussed:
Customer Engagement Through Social Media in Emerging Markets by Amitha Amarasinghe-Head of Neo@Ogilvy – Sri Lanka
Where Marketers Need to Grow
Creating Strong CSR Brands versus using CSR to create Strong Brands by Saurabh Uboweja-Brands of Desire
CSR: Its Correlation and Impact on the Brand by Sangeeta Robinson
Future of Integrated Brand Marketing by Prof. Vikram Parekh
Amitha Amarsinghe, chair of the session is a Digital Marketing professional based in Colombo. He will be providing insights from his 10 years of experience in eMarket on how to connect with customers on social media. Feedback forms now are an ancient method of receiving consumer perception. Social media has made the process for communication between the consumer and company more fluid.
An entrepreneurial driven economy requires more discussions on these topics and therefore we invite you to attend ACEF (Asian Customer Engagement Forum & Awards).
Here are the details:
Date: 12 September, 2015
Venue: ITC Grand Central, Mumbai
Timing (Forum): 10:00 to 3:00pm
Timing (Awards): 3:00pm onwards
If you're interested in attending this event through BlogAdda, drop us a mail at contact@blogadda.com before midnight, 9th September, 2015.