Ariel and BlogAdda resolved to restore the balance in households when it comes to household chores with an extensive campaign. Phase 1 was #IsLaundryOnlyAWomansJob (click here to see the winners of Phase 1) and Phase 2 was the #WashBucketChallenge. You picked up the bucket, some clothes that needed a wash and a pack of Ariel to complete the challenge, and now we have the winners of the activity!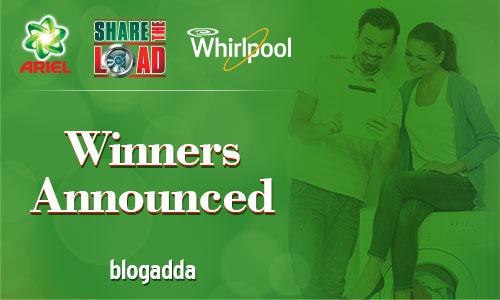 Are you ready to know who came out as the winners of the Ariel #WashBucketChallenge? We know you are so here you go…
3 of the best blog posts who win brand new fully automatic Whirlpool washing machines are –
1. Vidya Sury for her post Is Laundry Only A Man's Job? #ShareTheLoad
2. Shetty Anirudh for his post I pledge to #ShareTheLoad, towards Gender Equality
3. Arvind Passey for his post The art of soiling what is clean
The 20 blog posts that win a voucher worth Rs. 1000 each are –
1. Amar Naik for his post #WashBucketChallenge
2. Anuja Jain for her post Wedding Vows with Ariel Matic
3. Daniel Mangalraj for his post Sharing is Caring
4. Rekha Sriramagiri for her post A #Washbucketchallenge To Remember!!
5. Pradeep P for his post #WashBucketChallenge
6. Rahul Prabhakar for his post Promoting Gender Equality By Sharing The Load
7. Priyanka Roy Banerjee for her post Wash the Blues Together
8. Pravin Chavre for his post I know the importance of sharing the load and therefore I pledged to contribute as well
9. Renu B for her post #SharetheLoad with the #WashBucketChallenge
10. Umang Bhatia for his post Time to Prove with #WashBucketChallenge
11. Sri Ramani for her post Husband Takes The #WashBucketChallenge
12. Soumya Prasad for her post Sharing Is Caring #WashBucketChallenge
13. Piyush Bhatnagar for his post My Awakening
14. Garima Nag for her post 5 Reasons Why Men Must Share The Load
15. Debosmita Nandy for her post A Product Review of Ariel Matic #WashBucketChallenge
16. Monish Chandan for his post Accepted: Sharing The Load- #WASHBUCKETCHALLENGE
17. Amreen B. Shaikh for her post Men, It's Time To #ShareTheLoad 🙂
18. Pallavi Purani for her post Of Clothes, selfies and #sharetheload
19. Aaliya Thahseen for her post Pledge To #ShareTheLoad – #WashBucketChallenge
20. Shalini for her post We took the Dare #WashBucketChallenge
Congratulations to all the winners of the Ariel #WashBucketChallenge! You truly are the champions of blogging. Thank you to everyone who participated and made this challenge a huge success.  🙂
Nominate your blog for #WIN15 Blogging Awards now! You can nominate up to 5 blogs by clicking here!