When it comes to showing a woman's daily routine, be it in ads, TV shows or movies, washing clothes is an activity that is never left out. Why talk about fiction, when most of us have grown up seeing the women in our house sweat for hours, doing the laundry for the whole family.
Washing machines made the job a little easier, but using the machine and drying clothes is still the prerogative of a woman, whether she is working or not.
Does this look like the scenario in your house? Then you'd like to blog for #IsLaundryOnlyAWomansJob, an activity presented by BlogAdda in association with Ariel.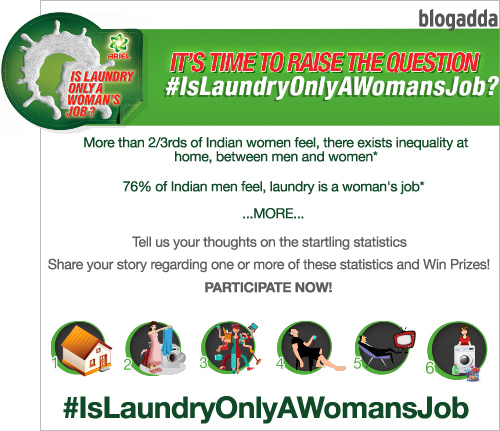 Phase 1 is going to be held this weekend (16-19 January) where you can blog about the accepted norm that women have the primary responsibility of doing the household chores while any help offered by the rest of the family might be considered a 'favour'.
Ladies, this is your chance to speak out against the inequality that pressurizes women to shoulder household chores day in and day out.
These are some of the telling household statistics that emerged in Ariel's survey conducted by AC Nielsen. Include these stats into a creative blog post and win gift vouchers!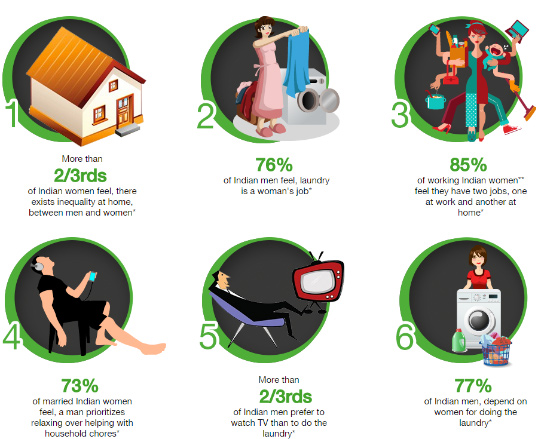 You can tell us your thoughts, a real life incident which relates to these stats or weave a story around them. You can also offer solutions to end this inequality. 15 of the best blog posts will win vouchers worth Rs. 1000! Start writing to make sure that your entry is among the Top 15! You can write two blog posts for this activity, and each blog post will increase your chances to be in the Top 15!
Submit your blog post by clicking on the button below!
Submit your post!
Instructions to follow-
1. Phase 1 of the activity is only open for women bloggers.
2. The word limit for the blog post is a minimum of 400 words.
3. Every participant can submit a maximum of 2 entries.
4. Include this line "I am writing for #IsLaundryOnlyAWomansJob activity at BlogAdda.com in association with Ariel."
5. The deadline for this activity is midnight, 19th January, 2015.
That's just the first part of a very exciting activity, with more surprises and fabulous prizes coming your way soon during Phase 2 and Phase 3, so blog for #IsLaundryOnlyAWomansJob and watch this space for more!