A while ago, we conducted the #IsLaundryOnlyAWomansJob activity at BlogAdda where bloggers wrote about the startling statistics that were revealed in Ariel's survey conducted by AC Nielsen. As they say, action speaks louder than words. And that is why we want you take up the #WashBucketChallenge to Share the Load of laundry.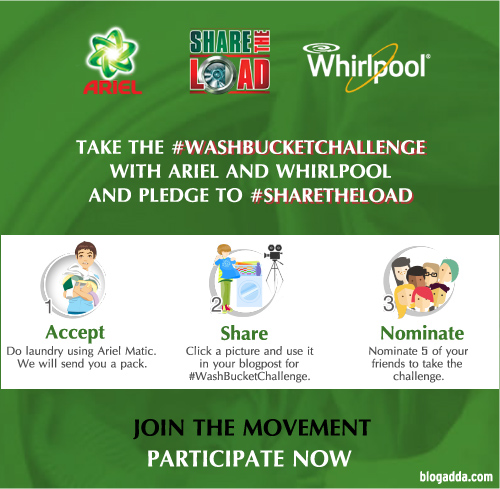 In Phase 2 of this activity, BlogAdda invites you to take a pledge that you will #ShareTheLoad of household chores and not burden just one family member. Gentlemen, we want you to take up this challenge to give the ladies of the house some respite from doing the laundry, and blog about the experience.
Ladies, you can get the men of your house to take up the pledge and blog about how they went about sharing the load.
Register for the #WashBucketChallenge and if you're shortlisted, we'll send you a pack of Ariel Matic powder.
Once your receive the pack, this is what you have to do-
1. Click a picture of yourself or your husband/brother/male in the household using the Ariel Matic pack with your washing machine.
2. Blog about your experience of taking the #WashBucketChallenge
3. Submit your blog post on the link that will be communicated to the shortlisted bloggers by mail.
Here are the prizes that you can win in the Ariel #WashBucketChallenge-
1. 3 of the best blog posts will get brand new fully automatic Whirlpool washing machines!
2. 20 of the best blog posts will win vouchers worth Rs. 1000!
They say 'Do Good, and it will come back to you', and your doing good by sharing the load will win you assured vouchers and a chance to win a washing machine!
Click on the button below to register! We have only a few slots so make sure you register before the world catches up!
Register Now!
Instructions to follow-
Every shortlisted blogger can submit 1 blog post
The minimum word limit for each blog post is 300 words.
Every blog post must be accompanied by a photo of the Ariel Matic powder with a washing machine
You have to post 2 tweets and 2 Facebook posts regarding the #WashBucketChallenge
So be a household that takes up the #WashBucketChallenge to share the load and win exciting prizes!