Injustice, like charity, begins at home. The only difference being that injustice should never be tolerated at any point. So when BlogAdda presented the #IsLaundryOnlyAWomansJob in association with Ariel, women bloggers took up the cause and blogged about it during Phase 1. And now it's our job to give you the happy news about the best bloggers in this activity!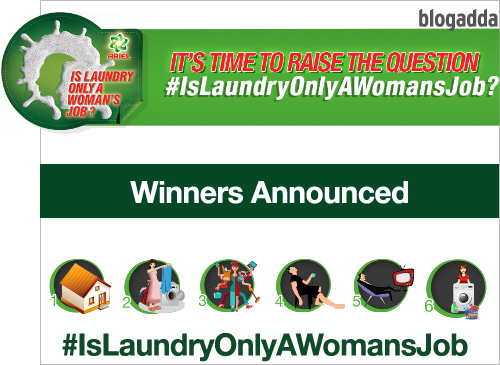 AC Nielsen conducted a survey for Ariel which threw up some startling statistics about household chores, especially laundry. These statistics came out of the survey report and got a life of their own through blog posts where you wrote about your own experiences when it came to the imbalance that exists when it comes to doing laundry in the house.
We loved all the bittersweet, honest, imaginative and even funny blog posts that you wrote for this activity.
Here are the 15 winners who win vouchers worth Rs. 1000! Click on the names to read their wonderful blog posts.
1. Parul Thakur
3. Nandini Deka
4. Vidya Sury
5. Shunmugasundari
6. Deepika
9. Lakshmi G
10. Neha Gupta
11. Rose
12. Disha Kotak
14. Arpita Dash
15. Aaliya Thahseen
Congratulations to all the winners of Phase 1 of #IsLaundryOnlyAWomansJob! Thank you to all those who participated in the activity.
You can now participate in the #WashBucketChallenge and pledge to #ShareTheLoad. The best blog posts will win brand new Whirlpool automatic washing machines! Click here to participate.