After the super success of #IsLaundryOnlyAWomansJob and #WashBucketChallenge, Ariel and BlogAdda now present a brand new activity – #ShareTheLoad. For all those who see inequality in households when it comes to doing housework, this is the perfect opportunity to let the world know what a home where the men and women #ShareTheLoad would look like.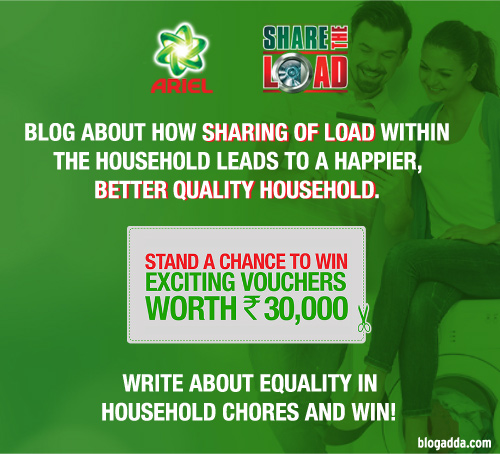 Imagine this scenario – Husband and wife decide to go for a leisurely lunch on a Sunday. The husband gets ready on time and whiles away his time while the wife tries to finish the household chores before leaving for lunch. The delay sours the mood of the couple, which results in a spoiled outing. This is just one example where the inequality in the household chores causes problems in a home.
What would have happened if the husband shared the load of the chores, put his time to better use and get the job done faster?
Blog about how sharing of load within the household leads to a happier, better quality household. Write about how this sense of equality within the household leads to more quality time with each other and results in success for the household.
Ariel is endeavouring to reduce the inequality in households when it comes to household chores by asking people to #ShareTheLoad proudly after highlighting the imbalance that exists in Indian families when it comes to housework.
We're sure that you can think of many ways in which sharing the load of household chores will lead to a happy and more balanced home. Blog for #ShareTheLoad, because not only will you be paving the way for equality in households, there are also some interesting prizes to be won!
Prizes:
Grand Prize: Voucher worth Rs. 20,000!
The next 10 best blog posts win a voucher worth Rs 1000.
Click on the button below to submit your entry!
Instructions to follow –
1. The word limit for the blog post is a minimum of 400 words.
2. Every participant can submit a maximum of 2 entries.
3. Include this line "I am writing for the #ShareTheLoad activity at BlogAdda.com in association with Ariel."
4. The deadline for this activity is midnight 10th May, 2015.
This activity is your chance to give a solution to end the glaring inequality that exists in most households. So #ShareTheLoad and share the love at home when it comes to household chores. Happy Sharing!