I so remember the first time I saw you, In your eyes.. I saw lights shining bright! Pehla Nasha, Pehla Khumaar, naya pyaar hain naya intezaar… Let us go back to your school/college days. The day you first saw him/her that made your heart skip a beat. Days were spent thinking about him/her. This is the effect the first crush has on us. Go down the memory lane with your first crush and relive those wonderful moments with us. 🙂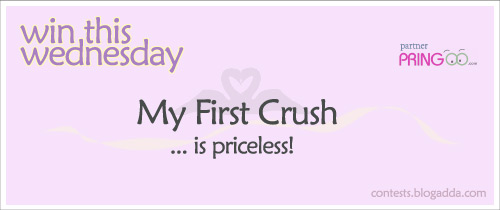 BlogAdda, in partnership with PringOO, is proud to announce this week's contest called 'My First Crush'.
Let us go down the memory lane to the time when you had your first crush. Blog about who was your first crush, how you felt, what you did and how much did it continue. You can even share an image of your crush, if you wish to. 🙂
Incorporate an image (with a linkback) from Pringoo.com which you can creatively use in your blogpost.
Add a Link in your blog post, mentioning this BlogAdda contest announcement AND leave a comment here (stating the link to your post), so we know for sure, that you are participating.
The winners will be chosen on the basis of the blog posts that could be witty, humorous, romantic and/or serious. All in all it should be an enjoyable read.

In case of any discrepancies, the decision of the judge(s) will be final.
The contest runs an entire week, starting Wednesday Jun 9, '10 and ends on Tuesday, Jun 15, '10, 11:59 pm IST. Hurry Up!

Results will be announced on the BlogAdda website by Friday, Jun 18, '10.
And here's the most interesting part, the TOP THREE winning entries can choose personalized goodies (T-Shirt/Mug) from Pringoo.com
UPDATE: We are pleased to inform you that Preeti Shenoy will be the judge for this contest.
Still thinking about your participation? Enjoy this video below and relive the good-old-days.