Preeti Shenoy is a blogger, poet, painter and a writer from Pune. She is the mother behind the very popular blog 'Just a mother of two'. She also writes for major mainstream media publications. Encouraged by the favourable reception of her first publications, she decided it was time to dedicate to a larger project and began writing a book that was launched on October 4, 2008,  entitled "34 Bubblegums and Candies". Read on to know more about her blog and her mamma moments.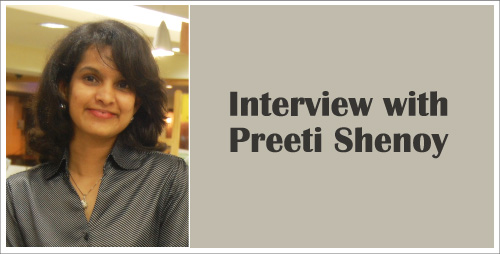 Q: When and why did you start blogging? Was it out of curiosity or something else?
A: I started blogging in October 2006. It was mainly to get over my deep grief and absolute shock of losing my beloved Dad, a person who meant the world to me all of a sudden.
Q: What topics do you generally blog about?
A: Everyday ordinary life—as Life is truly worth celebrating!
Q: Do you ever get stuck when writing an entry?  What do you do then?
A: Usually I have so much to say that I have to limit my words else the post will turn into a mini book!

Q: Which tools/plugins do you use to efficiently manage your blog? Any widgets or tips you would like to share with our readers.
A: I use sitemeter for monitoring traffic and feedburner for feeds. For my book I use ning and shelfari as I find them very interactive.
Q: What promotional techniques work best for you and why?
A: To be really honest, I have not done anything to promote my blog. My writing is from the heart and sincere. Each and every comment is read and I value  my relationship with those who read me, most of all. My writing style strikes a chord with many and they tell their friends about my blog. so I guess the biggest thing is a rapport I have with people who read my blog.
Q: Do you earn revenue through your blog? How does one go about it?
A: Nopes—I am dead against it and will never do it. For me, my blog is to connect to people. I have an emotional connect with all who read my blog I have met new people, made lifelong friends, learnt so much and grown as a person only because of my blog. I refuse to put any advertisements on my blog. For me, my blog is like my home in cyber space. I would not put any ads on the exterior of the building where I live—why should I do it on the Internet?
Q: How important is it for the blogger to interact with their readers? Do you respond to all the comments that you receive?
A: Yes. I do try and respond to each and every comment. According to me, it is basic etiquette to respond to comments. If the post itself is a general one and the comments I receive are far too many and similar to each other (for example wishing me the best for my book launch) then I write a common reply. Otherwise, I do write individual replies. If the person has been kind enough to read what you have written, taken time off and left a comment, the least you can do is respond!
Q: How, in general, would you rate the quality of Indian blogs? Share your favourite five blogs.
A: I have seen a marked improvement in terms of content, quality of writing and awareness in the last two years. I'd say Indian blogs can hold their own against blogs from any other country.
My favourite five blogs are as follows:
The last three are Indian. The first two are outstanding in terms of content and creativity.

Q: What do you find to be the most gratifying aspect of blogging?
A: The genuine love and admiration I get from people who read me.
Q: What is your advice to someone who wants to start a blog?
A: Be clear about what your purpose is, why you are writing and what you expect to get out of it, how much time you are willing to spend on it and what it means to you. Once you have this clear, you will definitely not be disappointed.
Q: Since you were writing for Mainstream Media. How different is writing in Mainstream Media with writing in a Blog?
A: It's very different. While writing for the Mainstream media, you cannot let your emotions or your bias come in. It requires thorough research and cross checking of facts. When I write in my blog, I can say what I want—I have the full freedom of creative expression. I can display my artwork, poetry or simply anything that has caught my fancy. For mainstream media, there are usually topics and guidelines to be followed.
Q: You are better known as the 'Just a mother of two'. Being a mother of two and doing all the things which you do takes a lot of effort and determination! What is the secret?
A: A lot of hard work, staying up late at night, a very supportive and loving spouse and two wonderful children and unconditional support from a few true and sincere friends!

Q: You mention that your children blog. Do they come to you and ask for your help on various issues?
A: My son has a photo blog and my daughter displays her artwork. The only help they ask me is whether I think that a picture is good enough to be put up on the blog!
Q: Your Book '34 bubble gums and candies' has been published. Can you tell our readers what the book is about?
A: It's a non-fiction book–a collection of 34 real life incidents, some hilarious that will have you in splits and some heart warming and some to make you think. They are all adapted from my blog posts—so if you like my blog, you will love my book!
Q: Can you share with our readers your top 'Mamma moments'?
A: Undoubtedly it was this:
http://justamotheroftwo.blogspot.com/2008/09/34-bubblegums-and-candies-mama-moment.html
The genuine joy on my children's faces when they see my picture in the newspapers, the excitement and pride they feel when they see my book in the bookstores, and the slight hint of pride in their voice when they tell their friends that their mom is an author makes me want to hug them—and I do!
It was a pleasure interviewing you and we are sure our readers would have felt the pleasure reading it as well. We wish you all the best for your second book.
Preeti can be contacted online:
You can also buy her book '34 bubble gums and candies'.