In our lives, our first crush is always memorable. Our contest 'My First Crush' received some awesome entries each one unique in its own way. We loved reading all the entries and are sure that you all would have loved reading them. Our Judge Preeti Shenoy would have had a very tough time picking up the winners. 🙂 We would not want to waste more time and let Preeti take over from here. 🙂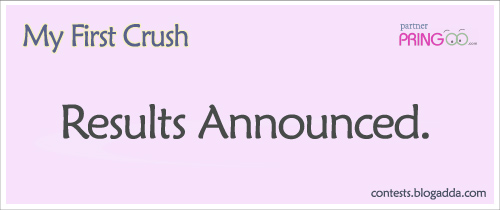 Preeti Shenoy writes: 'Judging' is a word which I am really not comfortable with. But when Blogadda asked me to, I really could not say no, especially as the topic which they picked by its very nature was the kind that makes your heart beat faster.
This must be one of most difficult tasks I have done ,when it comes to things related to writing. Honestly, writing my second book (yet to be released) was easier! What surprised me, as I read each entry (and I did read each entry, each comma, each full stop, each parenthesis and I did notice each typo and each grammatical error too!) was the honesty and depth of emotion that gushed forth in torrents. I was swept away completely.
When I finished reading the forty nine entries that Blogadda sent me, I discovered a surprising thing. I was hungry for more! There were so many wonderfully written pieces. It was truly an extremely difficult task to just pick three. And honestly, to be taken as an 'authority' one would have to be Stephen King or Paulo Coelho or Chuck Palahnuik or Milan Kundera or Salman Rushdie or — well you get the drift. So, this is at best to be treated as just a reader's choice as not a 'judge's decision'. If you asked all the writers I mention to pick three, each one's choice would likely be totally different from the others, even though they are all authorities in their own rights. So treat it as just that, and do not take it to heart, if yours was not 'picked'.
When I read all the entries, I was also simultaneously making notes (and quantifying by giving marks) on how each one made me feel. A good story-teller should be able to transport you to that place. The reader should feel the emotions that the protagonist is experiencing. It should also tug at your heart strings, make you laugh or cry or wince or chuckle, in other words it should touch that emotional chord. Many of the stories very similar to each other. The names were different. But the experience, descriptions were all the same. Some were very creative. Some touched me a bit more than the others.
Since it was about writing, I did pay attention to grammar, similes and the way the person had said the story. It was still hard to pick just three. So I did the best thing I could. After reading them, I slept over it! The next morning, the three which remained the higher most in my mind would be the ones that made the most impact. Here are my three choices:
A Story from long ago by Jellyfish : I almost had a crush on her crush after reading her story! She has described it so well. The dialogue, the setting, and the incident that happened –all have been woven together almost poetically to create magic. I loved this piece.
A moment of weakness by Hanif Murad: Reading the above piece made me go 'aaaaaaaaw'. It is very well written too. Read it and you will see why.
Summer of '57….. by Suranga Date: The above piece made me want to actually do what the writer did! This was wonderfully described. It transported me right back to the summer of 57 and I could see it all happening in front of my eyes. I will not give away anymore. Read on to find out.
The others who came very close and left an impression on me (in no particular order) were
Keep writing, folks! I am sure you will agree that blogs are a wonderful way to connect to people.
Thanks a lot Preeti for taking the time to judge this contest. We wish you all the best for your third book and are sure that your second book will be a best seller too. 🙂
Preeti Shenoy is an author and an artist based currently in the UK. Her first book '34 Bubblegums and Candies', a collection of 34 real life incidents, derived from her blog posts made it to the National Bestseller list. Her second book which will be out in a few months is a full length fiction. It is at its core, a love story set across two Indian cities in the early eighties. She is now working on her 3rd book which will be 'A 2nd Jar of Bubblegums and Candies'. She is also pursuing a course in Human portraiture which would lead to a nationally recognised British qualification. She has held a number of varied jobs which included writing articles for different publications like Readers Digest and Times of India, as well as teaching street children in India, English and Math.

To know more about her log on to http://preetishenoy.com and read her interview at BlogAdda.