The thirteenth edition of Aaruush, the National Level Techno-Management Fest of SRMIST, Chennai, is scheduled to be held from 26th to 29th September 2019.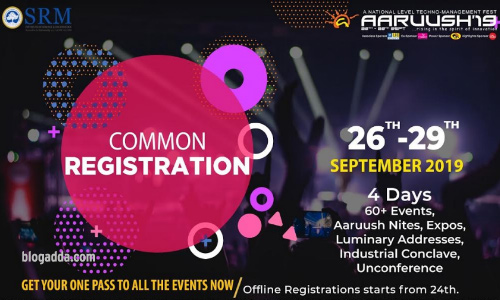 The premier edition of Aaruush was inaugurated by erstwhile President, late Dr. A.P.J. Abdul Kalam. They have had the pride of hosting many esteemed guests, such as Dr. A.S. Kiran Kumar (Former Chairman- ISRO, Padma Shri recipient), Mr. Dilip Chhabria (Founder of DC Design), Mr. Prabhu Chawla, among others.
The tagline of Aaruush '19 is "Assimilating Aspirations, Inspiring Innovation", which is how they intend to transcend the budding tyros into pioneering innovation. Aaruush is proud to be the only fest hosting a confluence of tech-fests from colleges pan India, in the form of the Technical Summit. They have an upcoming event – the Innovation Fair, which aims to inculcate a sense of spearheading exploration in fields of science to work towards making the world a better place. Aaruush '19 is also hosting the Hack Summit, which is a 36-hour long hackathon, to test the ultimate strength and endurance of participants in the diverse fields. Additionally, they also have the Autonomous Robot Challenge, offering a chance for participants to show off their skills in robotics.
Chief allure of Aaruush '19: Diverse Challenges and Championships such as the Autonomous Robot Challenge, the Quadcopter Championship, (Death Drift) RC Car Championship, and the biggest edition of Robowars yet, are some of the many in our star-studded line-up. They also have multiple addresses by aficionados spanning across a myriad of fields and aim at providing hands-on workshops on the current trends in technology. With over 60 events, luminary addresses straight from the virtuosos, workshops for an enriching learning experience, elaborate expos to elevate the concept of show-and-tell, the thirteenth edition of Aaruush is all set to be bigger than ever.
More details at https://www.aaruush.net/. Members of BlogAdda interested to attend write to us at bavity@blogadda.com