Udghosh is the annual sports meet of IIT Kanpur. It is one of the largest intercollegiate sports festivals of India with a footfall of more than 60,000! It serves as an excellent platform for students of various institutes to exhibit and enhance their skills.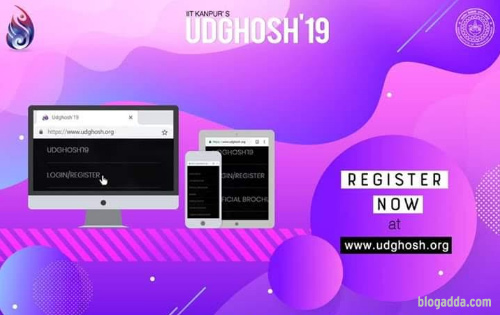 Participants from all over the country gather to witness marvelous displays of passion, zeal, drama, and respect. Udghosh, in the truest sense, is an exhibition of sporting fervour, and success in the meet has been ratified by continued success higher up in the sporting hierarchy.

Events
Udghosh 2019 organises 22 sports events with a huge participation of both boys and girls from over 200 colleges across the country. To provide talent the right push forward with elements of inspiration, Udghosh also plays host to some of the most renowned sports personalities. There are various other attractions too, like the pronites, the comedy night, informals, and exhibitions – that appeals to entertain to your heart's content. Udghosh also promotes social causes like "Udaan, a sports extravaganza for specially abled students" and many more.
The list of Sports Events are as follows:
Athletics, Badminton, Basketball, Carrom, Chess, Cricket, Football, Hockey, Kabaddi, Lawn Tennis, Skating, Sports Quiz, Squash, Swimming, Table Tennis, Taekwondo, Volleyball, Weightlifting.
The fest is conducted in order to promote the sports culture in colleges. Udghosh offers a platform to students of numerous educational institutions from all over the country to exhibit and hone their skills in the arena of sports. It promotes healthy competition among students of various colleges.
Udghosh started in 2002 and has reached new heights every year. Today, it is considered to be one of the largest intercollegiate sports festivals of the country with a footfall of more than 60,000 and participation from more than 200 colleges!
The festival has also been acknowledged by various sports celebrities
The Pronites offer an eclectic mix of ways to unwind from the stress involved in professional sport. Dance to your heartbeat, sing to your soul, groove to the beats, jump like a pogo-stick, lose yourself in the madness! Zestful nights that turn into mornings, with memories to cherish forever. With household names like Amit Mishra, Indian Ocean, Club Banditz, and The Local Train gracing the occasion with their presence, Udghosh has only gone from strength to strength.
At times, a good laugh is all you need. Udghosh offers exactly that with its Comedy Nite giving the audience new premises and revelling punchlines to take home. After all, what can be a better welcome to the weekend than laughing your lungs out with some of the best comedians in the nation? Playing host to superstars like Rahul Subramanian, Nishant Tanwar, Vipul Goyal, and Aakash Gupta, the Comedy Nite has always lived up to its reputation of being one of the most-awaited nights!
More details can be found at http://www.udghosh.org/ . Members of BlogAdda interested to attend write to us at bavity@blogadda.com