"A grandparent is someone with silver in their hair and gold in their heart"
Grandparents are epitome of unconditional appetite for love and unending tolerance for mischief! They bring joy to our life with their beaming smiles and hugs.  Unfortunately, the busy life that we live today,  makes it difficult to spend as much time with our grandparents as we would have liked.
Fortunately, we have Grandparents day coming up on September 10, 2017 and let's #LoveJatao and make this day a special one. And remember, we don't want only this day to be a special one, but the start of many such days.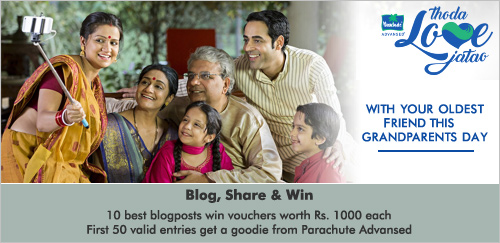 Share with us how will you spend the day with your grandparents and the things you will do for them to make them feel special. Let us all invest in the power of love and share those moments when your grandparents stood by your side, saved you from a whacking or simply engulfed you in their arms. It is time to #LoveJatao.
While you would have started thinking on how to make the Grandparents Day special, do check out www.lovejatao.com for creative ideas. After you've written the blogpost, share a selfie with your grandparent(s) on Sept. 10, 2017 on Twitter or Facebook with #LoveJatao and tell us how are you spending the day and making it special for them.
The first 50 valid entries will get a goodie from Parachute Advansed and the  10 best blogposts win vouchers worth Rs. 1000 each.  That's not all, your readers can get goodies too!
Mandates:
       Share the blog post of minimum 400 words telling how you plan to celebrate Grandparents Day.
       Use hashtag #LoveJatao in your blogpost and on social media
       Please include this line in your post – I look forward to hear from you how would you celebrate Grandparents Day. Do share a selfie with your grandparents on 

Sept. 10, 2017

on Twitter or Facebook with #LoveJatao & tag @blogadda to win a goodie from Parachute Advansed.
       The last day of submission for the blogpost is

September 10, 2017 midnight

.
       Kindly embed the above Parachute Advansed video in your blogpost.
       Share a selfie with your grandparents on Twitter or Facebook on

September 10, 2017

with #LoveJatao to be considered as a valid entry.
Click on the button below to submit your entry.

Kindly read the terms and conditions carefully.