'Friend' a sibling from another mother who has your back throughout your life. The bond that is very strong and profound. It is a relationship of mutual respect, understanding and support. The one you can look up to at any point of time in your life. Who rejoices with you in your happy times, and gives you a shoulder to cry upon in sadness. Such is the magic of friendship and its essence.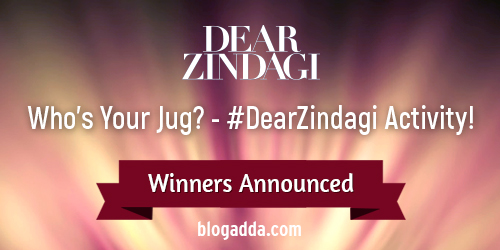 We at BlogAdda wanted you to participate in the second contest "Who's Your Jug?" – #DearZindagi activity and blog about that one friend who brings enrichment in your life. All our voracious bloggers took part in the contest and submitted awesome blog post about the same. We were really glad to read about your 'Jug' in life. Here's a list of bloggers who are proud owners of these exciting prizes!
Top 2 Winners Who Get To Meet Alia Bhatt Are:
Top 20 Winners Who Win Couple Tickets At PVR Cinemas Are:
Bhairavee
Ila Varma
Shalini
Vineet Chhajer
Congratulations to all the winners. We wish you all the luck for your future. Keep writing and let your words enlighten the hearts of many and continue to #CelebrateBlogging!