'Friend' the one with whom you can share all your secrets, insecurities, anxieties and guilty pleasures. Who listens to all your cries and sobbing over the phone. This special person is like a lifeline to save you from all life's horrors. The one you can wake up at an ungodly hour. You know you can bank onto them to give you a patient listen. Just like how Alia's 'Jug' (Shahrukh Khan) in the movie Dear Zindagi enunciates the qualities of a true friend. Who's your jug? The one who holds the closest spot in your heart!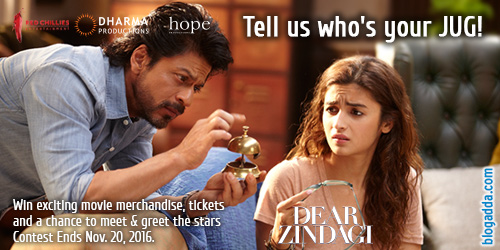 This one friend laughs crazily on your face at your embarrassing moments, yet makes you strong in tough times.  'Who's Your Jug?' is something that we want to ask you.
Activity Theme:
Blog about your 'Jug' and share with us the true essence of friendship.
Write about your 'Jug' and celebrate the bond of friendship through written words. Participate in this activity & get a chance to meet and greet the stars and win exciting prizes.
PRIZES
2 winners will get to meet Alia Bhatt!
Top 20 entries will win couple movie tickets at PVR cinemas for the first weekend of Dear Zindagi.
First 50 valid entries will win movie merchandise.
Click on the button below to participate!
Submit your post!
Mandates For The Activity:
The word limit for every blog post is of minimum 400 words.
Please include the mandate line, "I am writing about Jug in my life for the #DearZindagi activity at BlogAdda".
Share your blogpost on Twitter & Facebook (1 post each) & tag @blogadda & #DearZindagi.
Only blogpost submitted through this form will be considered valid.
The last date of submission of your blog post is midnight,  20 November 2016.