Good morning all the lovely people! A new week has kicked off again with loads of work at our desks. Let's start the week with laughter and fun. Yes, it's #PerkyTweets time at BlogAdda. Read the best funny tweets for this week and forget work's humdrum. We bring to you the best tweets from our twitter marathon to kick start your day with a curve on your lips. Let's get started!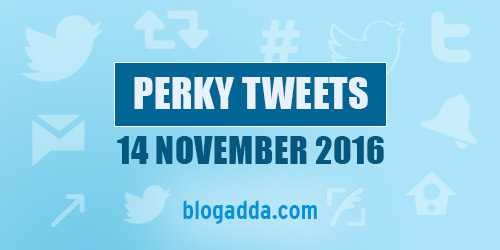 @blogadda #PerkyTweets भारत में लाल सिग्नल की जगह बिल्ली को दौड़ा देते तो लोग कभी 30 सेकंड से पहले लाइट क्रॉस नहीं करते

— shwetabh mathur (@shwetabh2) November 8, 2016
Those who give Rs 100 #Currency notes as Shagun in marriages will now give Rs 500 and Rs 1000 notes @blogadda #PerkyTweets

— Cifar (@cifarshayar) November 8, 2016
If Stu chews shoes, should Stu choose the shoes he chews?@blogadda #TongueTwisterDay #YouCompleteUs

— Novemberschild (@romspeaks) November 13, 2016
@blogadda #perkytweets
Kejri wants roll-back!

CM wants u to get in Q again to change new notes to old 😀

— sapna Bansal (@Sapnabansalgarg) November 12, 2016
Meanwhile in hospitals:
Doctor sahab koi bhi operation kar do…4-5 lakh tak ka… #SurgicalStrikeonBlackMoney @blogadda #perkytweets

— Amit Prakash (@doc2poet) November 8, 2016
Ek bundle note ki kimat tum kya janoge Modi Babu. #perkytweets @blogadda

— Durga Dash (@dpdash67) November 11, 2016
In the present day Twitter
"Best of Luck" has become
"Best of £uck" #PerkyTweets

— K. Venugopal Menon (@VenuSpeak) November 6, 2016
Gone are the days when Time was a great leveler. Internet is the new leveler. @blogadda #Perkytweets

— Rashmi Regina Ekka (@rashmiregina) November 10, 2016
Poor ₹500 & ₹1000 note! They are really confused, whether their value is increased or decreased! #PerkyTweets @blogadda #BlackMoney

— Niharika Verma (@niharikaverma22) November 13, 2016
@blogadda You shouldn't response to negetive people, coz its their jobs to overreact.the more peace you'll have in your life!!!#PerkyTweets

— Ushas Chattopadhyay (@hardsurviving) November 11, 2016
Would you like to share a good laughter dose with us? Well, here's your chance to make your tweet feature in our #PerkyTweets next week! Submit it by tagging @blogadda in your tweets with the hashtag #PerkyTweets!
Check out our YouTube channel and watch the visual ride of this week's Perky Tweets!