Real life stories of others are always intriguing. The encounters in real life turn into stories that hold life's lessons and morals. Often we connect the thread of these stories with our own lives. The stories that take you down the lane of your past memories. Don't you find it interesting and gripping learning about the real life incidents of other people and connecting with the same?
This book by Biranchi N Acharya called 'Tale 0'12' is the first book from "Bloggers To Authors" program at BlogAdda. A platform curated where we encourage our bloggers to write their own book and take a leap in their career. It is specially designed for the members of BlogAdda. Take a step forward and become an Author from being an already awesome blogger. This book is the result of the same program. The book is about 12 stories inspired by real life events. Would you like to review this book?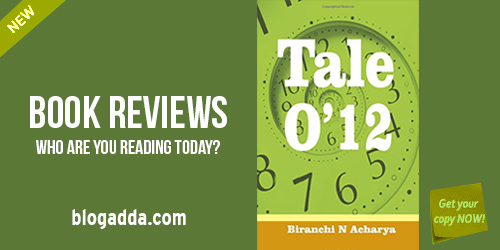 We have 10 copies of this interesting read for all you members of the Book Review Programme, so apply now to increase your chances of reserving a copy!
Overview of the book
Every life event is a story. In fact every moment of our life is part of a story being happened. We always ignore those because we think stories have no connection to real life happenings. But when we read stories or fictions suddenly we connect ourselves to the story-line or some of the characters emotionally or otherwise. That's why stories always fascinate us, entertain us & give us some lessons of life.
'Tale O' 12′ is a collection of twelve stories inspired from real life events written in a fictional narrative. One would definitely connect to the characters of the stories someway or other because all the stories have something that's related to everyone's life.
About the author
Biranchi N Acharya is a competent engineer by profession and habituated blogger and writer by passion. As an ardent political/social observer he is a regular contributor to various online political and social platforms that publish articles. His various articles/blogs ranging from opinions on politics, current affairs, socio-economic issues, religion and spiritual thoughts have been published on different platforms and highly appreciated by readers at large. Lot of his anecdotes are also based on real life experiences mostly in story telling style posted in various free blogging sites and has earned him loads of reader's accolades. 'Encounter with Wisdom' is the first book of the author published in December 2014. 'Tale O' 12′ is his second book.
Interested?
The review should be of 500+ words and should be posted on your blog within 7 days from the day you receive the book. In your review, tell us about the story, the writing style of the author, main characters, their description, your likes, dislikes, expectations, etc. 
To be able to review this book, you need to be a registered member of BlogAdda and your blog should be submitted & approved by BlogAdda. You should also have signed up for the Book Review Programme. If you have already signed up then head over to let us know your interest in reviewing this book.
NOTE: Even if you have signed up for the book reviews programme, you need to individually apply for reviewing every book that you are interested in.