At BlogAdda, we love words. That's the reason we feature great blog posts, give you prompts and reward you with prizes when you write outstanding blog posts for our activities.
But amigos, now it's time to level up. Now is the time to take the leap of faith from blogging to writing a book. You already know the tricks of the writing trade, and BlogAdda is giving you an opportunity of epic proportions to launch your writing career. BecomeShakespeare.com in association with BlogAdda brings to you 'Bloggers to Authors' – a launchpad to take your writing career into the stratosphere.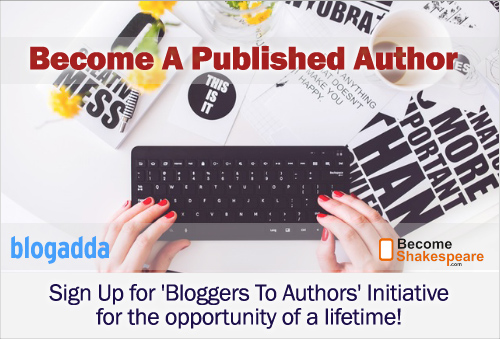 It is an exclusive offer extended only to members of BlogAdda, designed specially to make your journey from a blogger to author exciting and smooth.
Sign up for the 'Bloggers to Authors' program at the earliest and we'll get back to you with more details. The earlier you sign up, the more benefits you get! Be a part of Bloggers to Authors before February 5th and leave the competition behind with additional advantages over and above the great opportunity BlogAdda is giving you!
I want to be an author!
We know that you have a book inside of you, just bursting to come out to the world, and now is the time to unleash it. It doesn't matter what genre your manuscript belongs to, everything from thrillers to love stories to nonfiction and self-help books are welcome here.
2016 can be the year you become a published author and see your name alongside some of the great authors to come out of India. If you have the manuscript, we have the doorway for you to become a 'Bloggers To Authors'. Fame and fortune are knocking, open the door by signing up.