Hello to all the beautiful people out there! It's that time of the week, when you need to put on your reading glasses and get ready for some buzzing dose with Buzzing Blogosphere. It's Monday and we at BlogAdda are all keen to share the opinion of our Indian bloggers about latest happenings in our country. Chinese crackers ban, Diwali 2016, Supreme court declares equal pay for equal work, journalist Arnab Goswami quits Times Now channel and India men and women Hockey team wins Asian champions cup. Let's take a look at the views and opinions of the bloggers!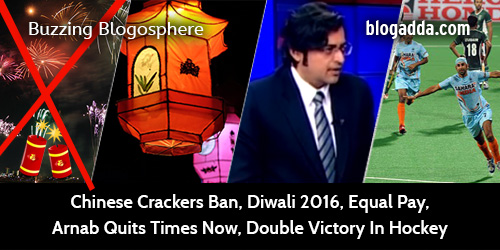 Big No To Chinese Crackers
Diwali is celebrated with all lights and crackers. But this year, government made sure that there is no sale of Chinese crackers in the market. A ban on Chinese crackers was to create awareness that we stop using Chinese products, and also these crackers have created a lot of changes in the atmosphere earlier, which has proved to be hazardous, explains Huffingtonpost to us.
Ban on import and sale of Chinese crackers has had little or no effect on domestically-made ones as traders across major cities report poor business owing to anti-cracker campaign run by schools, resident welfare associations and others, Assocham said today.It is not just Chinese crackers, but multiple factors like growing environmental awareness, rising cost of living, growing tendency to save hard-earned money, paucity of time and traffic congestions have dented the business over the years. This is what a majority of the 250 traders surveyed said.There is a sharp sales decline of about 20 per cent year-on-year from the past five years, which have also almost halved.
Chinese crackers consists of harmful chemicals, that are unfriendly for the climate. Makeintern blog supports this move by Indian government and gives it's views on it!
Diwali is the biggest Indian festival that celebrates the triumph of good over bad. It's the festival of lots of excitement, positivity and happiness. The celebration includes millions of lights sparkling on house tops, windows, outside doors and temples. From ancient times on this occasion, people used to decorate & illuminate their homes and fire crackers to celebrate this great festival.As it is the festival of lights and crackers so we need to be very careful while buying them because it effects our environment. Due to current scenario use of crackers must get banned but on this occasion since we are used to celebrate this festive in this way, we have to be very careful.We must boycott Chinese crackers and lights to encourage our Indian workers and to avoid any unfortunate moments. Chinese products are harmful for our country as they use potassium chlorate in crackers, an explosive chemical that is banned in India because it is not safe for Indian climate.
Diwali 2016: Celebrated Differently
Earlier when Diwali was celebrated with the entire family and with little much ado. With the growing trends and changes in the rituals, Diwali is celebrated on a different note nowadays! This year many people relived the older version of festive saga and celebrated differently. Seemagoswami blog throws light on how she celebrated the festival of lights.
My childhood memories of Diwali revolve around (no, not shopping, crackers or mithai) cleaning. Yes, you read that right: cleaning. As a child I rapidly came to recognize that the first sign that the Festival of Lights was around the corner was that industrial-scale cleaning would commence in the Goswami household.Entire rooms would be cleared out so that they could be washed and swabbed and swept until the floor was clean enough to eat off. The 'special crockery' that lived in the cupboard all year long, and was never used for fear of breakage, would be brought out ceremonially to be given a good scrubbing before it went right back on the shelves. The silver would be polished, the bronze given a good seeing-to. And all the Gods and Goddesses that presided over the Puja room would be ritually bathed and clad in brand-new clothes.All of this was, of course, a communal activity, with the entire household pitching in to do their bit. Even the kids who were too young to be of much help would be handed a dusting cloth and sent forth to do their best.
Good News For All Temporary Employees
Supreme court declares equal pay for all the employees, be it permanent or temporary. After all work is the same for all. A clear right vests in the hands of temporary employees of all kinds. The Scconline blog says, that this declaration was much needed!
Supreme Court: Dealing with the question as to whether temporarily engaged employees (daily-wage employees, ad-hoc appointees, employees appointed on casual basis, contractual employees and the like), are entitled to minimum of the regular pay-scale, alongwith dearness allowance (as revised from time to time) on account of their performing the same duties, which are discharged by those engaged on regular basis, against sanctioned posts, the Court said that the principle of 'equal pay for equal work' constitutes a clear and unambiguous right and is vested in every employee – whether engaged on regular or temporary basis.
The Bench of J.S. Khehar and S.A. Bobde, JJ said that in a welfare state, an employee engaged for the same work, cannot be paid less than another, who performs the same duties and responsibilities. Such an action besides being demeaning, strikes at the very foundation of human dignity as any one, who is compelled to work at a lesser wage, does not do so voluntarily.
The Vannamboodiri blog also propagates on the said judgement by the Supreme court. Quotes that this is really a good judgement because it establishes the rights of the employees.
An important judgment has been pronounced by the Supreme Court on 'Equal Pay for Equal Work." A Bench of Justices J.S.Khehar, and S.A.Bobde said the principle of equal pay for equal work constitutes a clear and unambiguous right vested in every employee, whether engaged on regular or temporary basis.The Bench further said " In our considered view, it is fallacious to determine artificial parameters to deny fruits of labour. An employee engaged for the same work, can not be paid less than another… Certainly not, in a welfare state.Such an action besides, demeaning, strikes at the very foundation of human dignity."
Times Now Channel Bids Goodbye To Arnab Goswami
India's very famous journalist Arnab Goswami calls to quit the the Times Now news channel recently. This decision by Arnab, created a huge buzz in our nation. A journalist who has been the best player in the TV news industry, made many bloggers write their views about it. The Theharyanvifundamentalist speaks about Arnab and appreciates his work in the news world!
All good things comes to an end, but reigns are often reduced to dust. Hitler, Mussolini, Gaddafi, Osama, Saddam Hussein. The list would be endless. But this isn't an eulogy for the evil dictators, but my impression of a man who terrorized people in all together different way. He's no evil nor a messiah, but a man who changed the game of TV news in India. Arnab Goswami, who for ten years had become the (proclaimed) voice of the nation, has resigned from Times Now, the undisputed, unconquered, numero uno English News channel in India for the last eight years.Now, there are much more experienced people than me, some who have been with him since the channel was born. I merely spent two years and three months at the network. Unlike a news anchor or a news desk person, thankfully I never had much time to spend with him. Save for one-odd occasion, I was never required to attend those 'yes boss' editorial meetings. (Well, that was the popular perception). So, in short, as a page 3 reporter, I was too insignificant in the eyes of Mr.Goswami. Trust me, being insignificant is far better better than having the sight of the man hovering around you like a ghost through the 12 hours spent each day at work.

Despite my low-profile status, I was like a fly on the wall, a fiddler on the roof, a voyeur at times, often privy to the chaos that occurred from Monday to Friday. (He only showed up on weekends during the big news coverage – elections, high profile deaths and sensational stories). Despite my short stint, there were quite few endearing anecdotes. I call them 'my experiments with truth… in the citadel of Arnab Goswami.'
To start his own news channel, that made Arnab quit Times Now, has created a lot of excitement for the viewers. The Dailyblogvlog who is one of the viewers anticipated a lot of good comings and expressed him positive views about it. Take a look!
Arnab calls it quits- The game has just begun!!Arnab Goswami, a man born with the gift of gab. Such an inspiring individual, who knows how to make the audience stick around the News Hour and participate in the ongoing debates of the world.Why does he quits Times Now?

Ten years long journey in Times Now, coming to an end. He says he is up for a new venture he wants to establish. He stated that he will still be a part of News Industry.What's with Entrepreneurship?As he stated that he will still be a part of News Industry, does that mean he had a vision to launch a news channel? something more innovative on the news front? He is an eloquent speaker, he can have exclusive shows. With the kind of thought process he has, it wouldn't be a surprise for the audience to have him write his own publications.
Arnab's debate and speeches has lead to increase in his followers. A journalist who out stands all the other through his work and dedication deserves an applaud. This radical approach towards the united international journalism by Arnab marks a big change on the journalism front, says the Takeawalkinthewoods blog!
I wasn't particularly a regular viewer of The News Hour. I had seen some episodes and was quite neutral about Arnab Goswami. That is, until I saw one of his recent episodes on Triple Talaq.And. that. was. it.Hats off to him for what he did on that show. The way he ousted Shamsher Khan Pathan for insulting his women panelists on national television was outstanding.This man symbolizes integrity.I will not speak in length on what his good and bad qualities are. I'd just like to post two of his awesome videos that one should see without fail.
India Men & Women Hockey Teams: Winners Of Asian Champions Trophy 2016
It's a proud moment for us Indians as the men's hockey team bags in the Asian champions trophy this year. India clearly defeated Pakistan with a score of 2-1, which took place in Malaysia, and created history in the world of Hockey with their fair play. The Highonsports celebrates this victory, take a quick look!
It has been just about a week since India lifted the Asian Champions Trophy in Malaysia with a phenomenal win over arch-rivals Pakistan in the final. This was India's second title since the inception of the tournament in 2011. It is undoubtedly a major achievement for the team which has been under constant resurgence in the past year.They have improved almost everywhere on the field, keeping composure during the shoot-outs, avoiding unnecessary fouls, converting the penalty-corners and going strong even when playing a man short on the field. These are some of the traits that were witnessed during India's campaign in Malaysia. And, if one has a look at the official team rankings one would have predicted an easy win for the Indian team. India is the top ranked Asian team to take part in the tournament, at sixth in the world.While the other participants don't make it in the top 10: Korea (11th), Pakistan (13th), Malaysia (14th), Japan (16th) and China (18th).The win, however is a win and one must definitely appreciate it. But, it also exposed some areas of the Indian game that needs to be addressed.
The hockey world witnessed another victory, by the women's team. After men's team victory, it was time for our women players to showcase their sports spirit and win the trophy. The team gave a tough fight to China and defeated them with a score of 2-1 which was held in Singapore this year. After India became the runner up in 2013 Asian champions trophy, India finally won the champions title, says the Totalsportz blog!
The Indian Women's hockey team lifted their maiden Asian Champion Trophy 2016. They defeated China by 2-1. Deepika's last minute goal made her team to lift the trophy.Deepika score the goal from the penalty corner, which made her team to create history in the Indian Women's Hockey Team.Prior, Deep Grace Ekka changed over a punishment corner to take India into the lead in the thirteenth moment before China balanced in the 44th moment through a field objective from Zhong Mengling.

The appreciated result for the Indian Women's Hockey Team comes days after men beat Pakistan to win's the Asian Champions Trophy in Kuantan, Malaysia.India's best finish in the Women's Asian Champions Trophy came in the year 2013 when it completed runner-up to Japan. It had completed third in the inaugural release in 2010.Having learnt from their gathering stage experience, India refused to give China a chance to take early control of the ball, shutting them down high up the pitch, regularly blocking their passes and always putting weight by chasing in packs.
Well, dear readers this was all for this time's Buzzing Blogosphere. For more happenings and events, that marks a change in our nation, stay tuned for the next buzzing round. Till then keep writing and sharing your views and opinions, as they contribute towards a positive change and attitude towards the society.
Have you read about the 10 best homemade juices to detox all the calories? If not, then take a look at these best juice recipes that will help you maintain a good healthy regime!