The business management world today anticipates proficient leaders. The ingenious is in everyone, all we need is a perfect platform to exhibit the skills. To nurture and advance the management skills of it's students in today's competitive world, is the priority of the institution. Xpressions'16, an annual business cultural fest by Xavier Institute of Management, Bhubaneswar, initiates growth of the pioneers in the business world. The three day event will comprise of various competitions and cultural nights. Limelight of the fest are celebrity singers that will make this event a memorable one. After all, college life also calls in for some fun and recreational activities! BlogAdda is happy to be their blogging partner.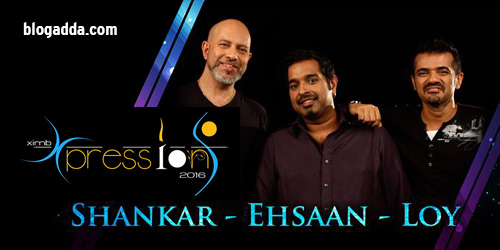 What is Xpressions'16?
It's a three day business cultural festival, that focuses on the development and growth of its students, and prepare them for a bright forefront. The event conducts various competitions, that will help the B-school students from all over India, to advance and display their skills. Xpressions'16 focuses on the simulation of the mind with the help of various astute activities. This year, the legendary trio of Shankar, Ehsaan, Loy will perform live on the stage of XIMB, for the first time ever. Not only that, but this year Lagori, the mesmerizing band from Coke Studio will also be there to enthrall the audience on the first night.
What's in for you? 
Business game events like Gladiator, Kurukshetra, Skill City, Helios and Spardha to test the mental abilities of the business students from all over India. These competitions will be conducted in to explore and make them aware about the present world scenario on the management front.
Decibelz: Music will witness a whole new level of competition, as XIMB gives a chance to take part in the battle of instruments.
Xansad: Debate on the current scenarios, depicts the mindset of today's youth. XIMB organizes a debate competition that gives a chance to provide an insight to your thoughts and views on a particular topic.
XIMB MUN: Look forward to a discussion panel for those whose ideas can help solve the current global issues. Make your ideas count.
Carnival De Vogue: With a glint of style, walk down the ramp all decked up to pronounce today's fashion trends.
Where: Xavier Institute Of Management, Bhubaneswar
When: 11th November 2016 to 13th November 2016
For more details visit: http://www.ximbxpressions.com/  or  https://www.facebook.com/ximbxpressions/
So get ready for this year's Xpressions'16 to manifest your skills. Pull up your socks and let your skills do the talking in this three day event. Enjoy this cultural fest, with a good competitive vibe. We look forward to a have a gala time!