Good morning folks! It's Monday and BlogAdda is all set to share some laughter dose with all you people. Here are some of the funniest tweets, that will make you laugh and keep you refreshed the whole day. Let's gear up for a good laughter ride with #PerkyTweets from our Twitter adda, where the twitteratis share their sense of humour with us!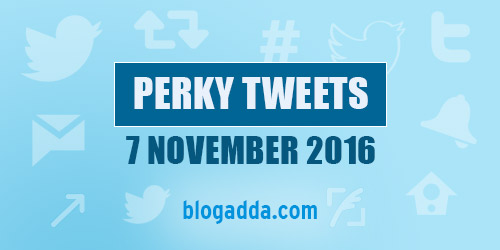 #PerkyTweets
No train journey can be ever complete without the question, "platform kis side aayega"?

— shwetabh mathur (@shwetabh2) November 4, 2016
After phones there washing machine are also exploding have they recruited ISIS terrorists in their company #PerkyTweets @blogadda

— Cifar (@cifarshayar) November 4, 2016
Never underestimate the power of Chinese whispers in a #smalltown – even the local eateries propogate d same #lifeinasmalltown #perkytweets pic.twitter.com/yN7NTtsf5q

— Nidhi Sethi (@iam_agog) November 1, 2016
How many employees of Times Now asked for a noiseless Diwali? #timesnow #newshour #arnabgoswami #perkytweets #ArnabGoesWhammy

— Vrijilesh Rai (@ChaiBiskutBhai) November 1, 2016
#PerkyTweets, meine kaha teri zulfo ke saaye me jeena hai…woh beraham aapni julfein kat ke mere hath thama kar chali gayi

— Jyotirmoy Sarkar (@TheJyotirmoy) November 5, 2016
https://twitter.com/relishingrascal/status/794995468199546880
Type a Diwali msg.
About to press Send.
Remember this person didn't reply to your Dasera msg. 💡🔥
Close window. 😂😂😂#PerkyTweets @blogadda

— Varsh (@varshabagadia) October 30, 2016
Bengali boy asking for 20 crackers in Delhi from his girl classmate asks
"Humko Kudi Pathakha do" #PerkyTweets #HappyDiwali #HappyDeepavali

— K Venugopal Menon (@VenuSpeak) October 29, 2016
#PerkyTweets Amazon Diwali deal
Akhilesh Yadav (cheap
Mulayam Singh(costly)
Akhilesh+Mulayam+Chachaji(special combo) OUTOFSTOCK! @blogadda

— Shubham Khandelwal (@itisSK) October 28, 2016
Also enjoy the tweets at our YouTube adda. Watch this week's Perky Tweets Video!
Would you like to share a good laughter dose with us? Well, here's your chance to make your tweet feature in our #PerkyTweets next week! Submit it by tagging @blogadda in your tweets with the hashtag #PerkyTweets!