Good Morning Readers! You must be wondering what makes us all cheerful and chirpy while Monday stares right at our face blaring from the screens and loads of work! Well, we have our Twitter friends to keep us lightened and brightened through the day. You guessed it right for we are back again with #PerkyTweets swaying us away. Gear up for some giggles as we get the funniest tweets ever from last week's Twitter parade!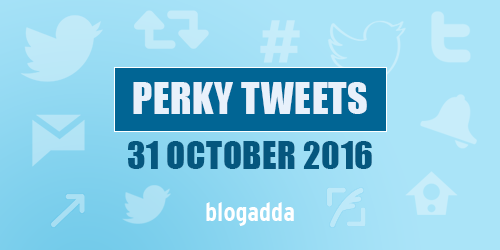 Ae Dil Hai Mushkil leads to Kabhi Khushi Kabhi Gham for KJ😁 #PerkyTweets

— Anand Kumar R.S (@anandkumarrs) October 14, 2016
Lamb,Snow,Lever,Old,Small,Bell,Root,Stokes,Cook,Butler,Onions,Broad,Finn,Wood,Ballance,Prior,Ball- Names Of England Cricketers #PerkyTweets

— 🇮🇳 Pranay Nigotiya 🇮🇳 (@pranaynigotiya) October 8, 2016
Puja decoration on vehicles blocks front and rear view. There is nothing to worry, once things are left to divine care. #PerkyTweets

— Durga Dash (@dpdash67) October 11, 2016
Teacher: Our topic for today is photosynthesis. What is photosynthesis?

Student: Photosynthesis is our topic for today.

😂😂😂 😂😂😂 😂😂😂 #rofl

— Sʜᴀᴢᴇᴇʀ Hᴜssᴀɪɴ (@ShazeerHussain) October 19, 2016
They say 💵 money 💵 talks : mine just waves goodbye 👋👋👋! 😲 #funnytweets #comedy #sarcasm #SarcasmAlert #jokeoftheday

— Anjali (@anjaliprabhan27) October 17, 2016
What do you call a fish with no eyes?

Fsh#jokes #Jokerit #jokeoftheday #funny #lame #HAH2016 #hashtag #morehashtag #timepass #ROFL

— Imran Ahmedh KR (@theiakr) October 15, 2016
Me: I am invited for a halloween party
Bro: Don't bother, you look ready to roll! #hecticlife #NoTimeForThat #dressup #perkytweets

— Nidhi Sethi (@iam_agog) October 27, 2016
#TataSons appointing #RatanTata as interim Chairman in place of #CyrusMistry A suspense, reads like a Mystery Noel. OK Tata #PerkyTweets #fb

— K Venugopal Menon (@VenuSpeak) October 27, 2016
@blogadda #PerkyTweets https://t.co/cdglO0Dg1G

— Reena chopra (@rynachopra) October 28, 2016
Would you like to send us some laughter potion? Well, here's your chance to make your tweet feature in our #PerkyTweets next week! Submit it by tagging @blogadda in your tweets with the hashtag #PerkyTweets!