The festival of lights, our very own, Diwali is always the much anticipated festival of the year! It's that time of the year when the whole country shimmers and glimmers as streets brim with stalls of gifts to streamers to candles and diyas. With the celebration of Ram's homecoming, we welcome Goddess Lakshmi into our homes and immerse ourselves in the usual gift exchange routines. We hope you too are done with your Diwali haul and are already on your evening sprees to distribute sweets and gifts! How about doing your lil bit towards the prosperous Diwali for the needy too this year?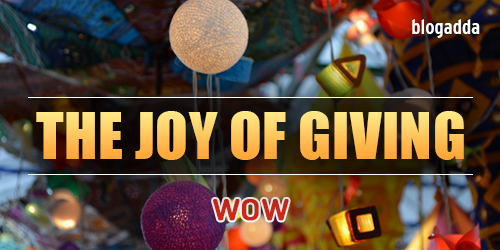 This week's WOW prompt is: "The Joy Of Giving"
This year, we want all of us to have an equal share of joys and smiles. This Diwali we want you to blog about the one thing you did to make the under privileged have a joyous Diwali as well. We are sure  your love and affection reaches not just the well off ones but to the poor and the needy too. But this time we want you to blog that one instance where you made a difference to someone's Diwali. The light and shine of their smiles is bound to cross zillion LED's when a subtle expression of love is given to those who lack the wealth of the green bills. Let us know of your joy of giving, donating and helping as you light up a smile this Diwali.
Bloggers are requested to add the mandate line in their post and submit their entry through the submission form for their WOW entry to be considered valid. Remember, you have time only till Sunday midnight to submit your blog posts and have a chance to get the WOW badge!
Include this code:
'This post is a part of Write Over the Weekend, an initiative for Indian Bloggers by BlogAdda.'
Good news! There is now an easier way to submit your WOW entries, so just click on the submission link below for your WOW entry to be considered valid.

Every weekend, we give creative writing prompts for you to write blog posts. Hope you enjoy our creative writing inspiration for this week. 🙂