What is college time if not for the last minutes survival work to get through exams, the endless gupshup and the late night chais  while curating ideas for annual fests. College festivals always top the memory lane and IIITA is all set to make its annual fest bubble through your entire life with Effervescense' 16. BlogAdda feels immense pleasure to collaborate with IIITA. Fun is getting doubled up this year with the three day long chute the chute ride through fun, frolic and excitement. IIITA proudly presents two of its biggest and best events- Model United Nations and Incendiary.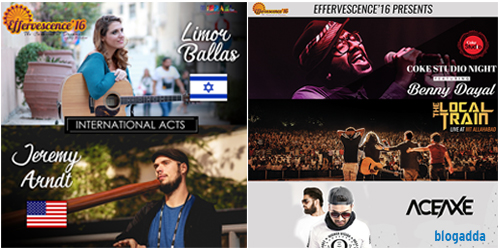 Be it the steaming discussions and debate forums of MUN or the symphonic rock music, both events strike a common chord through the ecstatic rush they pull you in.
The event will be inaugurated on 14th October by Jeremy Arndt, a Hang Drum artist from USA. In association with the Israeli embassy's "Culture Israel" program, the event presents some mesmerizing symphonies by famous Israeli singer and song writer, Limor Ballas on 17th October. Stay tuned for the celebrity night that follows your musical day with Benny Dayal to sway you to his melodies.
Started in 2014, IIITA's MUN is India's first of a kind in Allahabad and has gained a huge amount of popularity across the country in the past two years. This year, it comes up with an extended version with two committees, European Union and United Nations Human Rights Council with two hot agendas of the present day, promoting and protecting human rights around the world. With these two powerful wings coming together and delegates from all over India, this year's MUN is a must go event. The event surely gives a promising platform to meet new people, creating unforgettable memories and talking about change that matters.
On the musical note is Incendiary, the battle of bands, an event that's supposed to set your soul on fire with some of the finest performers from the rock world and EDM. The winning band qualifies for MTV Xtreme 2016 and gets a chance to be featured on MTV Indies channel. The Local Train, famous Indian band, will be blowing up the first whistle of the event. Feel free to shake a leg as you groove into the trance that leaps beyond your wildest imaginations, for your throat might not have mercy on it as your heart meets the beat!
So are you ready to suit up for some moot discussions and dance up a storm with some rocking beats? Here's a your chance to perk up your October with some euphoria at Effervescense'16. You can also watch out for their updates on Twitter  and Instagram.
Hurry! Register for effervescence at www.effe.org.in.