Life is a roller coaster ride that none of us is asked before being belted in! It's a gift that is bestowed upon us, with it ups and downs, to be endured and enjoyed as given. While most of us enjoy the ride whining about the struggles and hardships, very few enjoy it in every moment. It is only when this ride is about to end, that a replay button is switched on. Good or bad, old or young, the whole journey replays through our mind and the end is nothing but regret and guilt, for not living it up to the mark! Only a few have an approaching end filled with contentment and gratitude!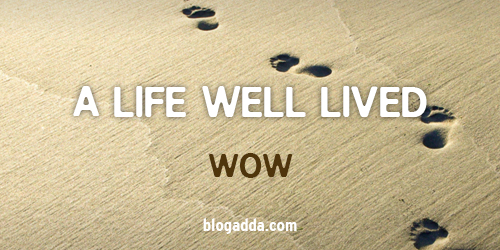 This week's WOW prompt is: "A Life Well Lived"
Well, we at BlogAdda are always high on life, and love it to the core. But since we are all in for imagination, what if this day was the last for us?  If, the world was finally packing up and we were given a time span to give back our feedback forms? Would we look back with a gleaming smile and an 'all is well that ends well' picture or would we spend the last few minutes with regret too?
This weekend, we want you to skip the bad part and tell us you've lived your life the best till date! Despite all that's done and happened, life has been the most beautiful thing happening to you. Introspect and let some gratitude flow to yourself, that you have played your part the best possible way, till this day! Let us know how your life's journey has been perhaps, a life well lived.
Bloggers are requested to add the mandate line in their post and submit their entry through the submission form for their WOW entry to be considered valid. Remember, you have time only till Sunday midnight to submit your blog posts and have a chance to get the WOW badge!
Include this code:
'This post is a part of Write Over the Weekend, an initiative for Indian Bloggers by BlogAdda.'
Good news! There is now an easier way to submit your WOW entries, so just click on the submission link below for your WOW entry to be considered valid.

Every weekend, we give creative writing prompts for you to write blog posts. Hope you enjoy our creative writing inspiration for this week. 🙂