Monday's back and we are still dancing through our Dandiya daze, enjoying the festivity that Navratras have to offer. The streets are filled with luscious delicacies, chaniya cholis are glimmering through stalls and offices often bask in the common colour shade, making Monday all heavenly white today! Who would want to work through the schedules and drool over the meetings when the town is going crazy with the beats! Well, to lighten up your mood and charge you up for the evening tour to the Pandal for some twists and twirls, here's some liquid laugh shots with funny weekend tweets at our very own #PerkyTweets!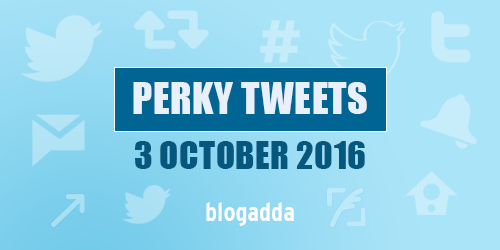 I study.
I take the test.
I pass.
I forget what I learned.
Whats the point? 😂#PerkyTweets

— Akshay (@Crabby_02) September 23, 2016
Is d kid urs?, an antagonised pasengr askd d hubby. "Nah, am a theologian explaining power of karma to d young lady" #perkytweets @blogadda

— Nidhi Sethi (@iam_agog) September 19, 2016
@blogadda #perkytweets
Me: suggest me a plot for horror story.
Amit: come n meet my wife..want more horror..irritate her

— Travel,food,fitness (@Sapnabansalgarg) September 30, 2016
#MiamiBlues
Don't be alarmed if a stranger gives you a hi-5 and walks away. He is a Gujju warming up for Navratri.😊#PerkyTweets

— Utpal K (U K) (@foodietweeter) September 29, 2016
Vodafone free data for new customers,Desperate Vodafone is slapping own kid and giving sweets to street kids @blogadda #PerkyTweets

— Cifar (@cifarshayar) September 28, 2016
Ye aankhen badal kar de song playing on radio.Me:what does it even mean?how can eyes create clouds? Hubby:Haven't u seen X Men? #perkytweets

— Reema (@Rima_B) September 4, 2016
"@Madan_Chikna: Abey yaar.. aisa nahi karna chahiye tha. 😂 pic.twitter.com/Hb8EJ67HXY"

Rofl@atishub @sheshadre

— Anand Raj (@singhanandraj) July 28, 2016
Would you like to send us in a laughing fit? Well, here's your chance to make your tweet feature in our #PerkyTweets next week! Submit it by tagging @blogadda in your tweets with the hashtag #PerkyTweets!