Here's wishing everyone Happy Navratras! We are again back with this week's Buzzing Blogosphere, our fortnightly newsletter from now on! A lot has been happening in the sphere of politics, entertainment, frontier borders and much more that needs our attention. From Nawaz Sharif's speech at the UNO, to Sushma Swaraj's response to the speech, to Surgical Strike at LoC, to ban on cultural exchange, and India diving through PINK! So, let's go find what our bloggers had to say and take a quick look at the best of the views.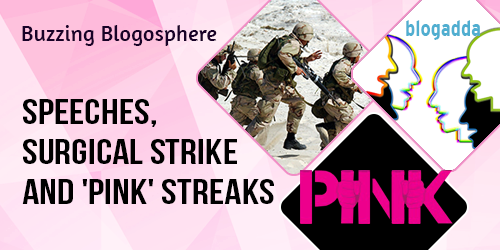 Speech at UNO : Nawaz Sharif v/s Sushma Swaraj
As India soars high on social, political and economic front, so do its complexities. Pakistan's Prime Minister Nawaz Sharif's speech at the UNO claiming India's brutality and denial to resolve the Indo-Pak relations created a big buzz catalyzing a chain reaction that still stays unpredictable. As a result, India reciprocated trashing all claims to be null and void. Here's how Systema blog explains.
"Pakistan Prime Minister Nawaz Sharif on Wednesday glorified slain Hizbul commander Burhan Wani as a 'young leader' seeking to accuse India of not wanting to resolve the dispute between the two nations. He was speaking at the 71st session of the United Nations General Assembly. Sharif said his country supports 'self-determination' for the people of Kashmir, calling for a United Nations fact-finding team to visit Jammu Kashmir to record "extra-judicial killings" that he claimed have taken place in the region. Minutes after Sharif concluded his speech, India rejected Pakistan's false accusations asking if calling for an end to terrorism as a condition for talks was too much to ask for. India also reiterated its stand that Pakistan is a terror state and that the government in that country was allowing terror organisations to roam freely in its lands."
After the self-righteous declared speech by Nawaz Sharif, it was Sushma Swaraj the Minister Of External Affairs of India who slammed back at Pakistan through her speech at the UNO.  Beyond This Life enlightens us with the some facts.
"Sushma's UNGA speech that won wide praise was well balanced in content, addressing themes of this General Assembly session (sustainable development goals), as well as hitting back at Pakistan for its duplicity and terror streak. But two things stand apart – that also show how India is going to conduct its diplomacy and how it going to speak its mind in future." 

THE KASHMIR ADMISSION: When Sushma Swaraj said that those who have glass houses shouldn't throw stones on others, she was making an honest statement and was issuing a stern warning. We all accept that Kashmir is going through a bad phase. Even our prime minister has accepted it and the Indian establishment is sincere to make things normal even if it is all because of Pakistan sponsored terrorism and separatism. We in India know where we erred and we accept it. To India's credit, Kashmir unrest has seen a raging national debate and everyone has spoken his mind, including the so-called separatists."
The sartorial choices made by Sushma Swaraj at the UNO to address India's power and credibility is well observed and written by Ankita in her blog.
"I saw Sushma Swaraj's speech at the UN in last evening's news coverage. While the news channels played her key messages on loop, I noticed that backing her fierce words was a stern face.  A speech of that kind needed a stern face to go with it and an accomplished orator that Sushma Swaraj is, she was well aware of the fact. A lot has been said and written about what she said and how fitting were her replies to the neighbouring state chief so am not going to comment on that. What I want to talk about instead are her sartorial choices and what they mean."
The astounding Surgical Strike By India
After the attacks in Uri, India took a step to safeguard the nation's security by conducting a Surgical Strike at the Line of Control borders. This step heeded the entire nation. The move was intended to warn and remove the alleged terror camps that were held to cause death and casualties. The in-depth insight is explained by Srinivasan in his blog.
"29th Sept 2016 makes us proud ..  India has carried out surgical strikes targeting "launch pads" for terrorists across the Line of Control (LoC), the Army said today.   In  its first direct military response to the massacre of soldiers at the Uri base in Jammu and Kashmir, the Indian Army  conducted #surgical strikes last night on terror launch pads across the Line of Control (LoC) to eliminate terrorists who were prepared to infiltrate into the Indian side of the border.  The Army commandos crawled through mud, rocks and even landmines for about 3 kilometres with the threat of being caught in the Pakistan army's crosshairs. Their destinations included five launch pads where large number of terrorists had gathered.  The launch pads were those of the terrorists waiting to infiltrate into the Indian side of the LoC to carry out terror attacks in the country. The terror launch pads were located in Bhimbar, Kel, Tattapani and Leepa areas."
The Surgical Strike has set the entire nation to anticipate. Here's how many questions have occurred in the mind of Pradip Nair.  
"Finally, the long-awaited avenging of the Uri attack has taken place. Remember the the buzz on the social media a few days ago? See my previous post.The day's excitement, which began with the news that the Prime Minister had cancelled a meeting to discuss the status of the Most Favoured Nation status of Pakistan, has lasted right up to the end of the day."
Ban On Cultural Exchange By MNS
India has always thrived to achieve peace and harmony with its neighbouring country Pakistan. The talent of Pakistani artists have always been encouraged and supported. But, the recent developments seem to wrought up the situation as MNS called for a ban on cultural exchange between the two countries. The decision has gravely affected the entertainment industry. Here's how Le Amusant elaborates it to us.  
"In the wake of growing tensions between India and Pakistan especially after the Uri attack which happened last week, the relation between the neighbours seems to be soaring. An Indian journalist was on Monday asked to leave a press briefing of the Pakistan Foreign Secretary in New York. Apart from this, Pakistan has cancelled a trade exhibition which was scheduled to be held next month in India."
PINK- The Revolution Begins!
The recent Bollywood release 'PINK' has spread an ethereal vibe all over the country and across the borders. The movie prompts you to brood upon female's safety and gender equality. Where it firmly states that 'consent' plays a big role in today's world, it sends a strong and impact message to the society. Movies that are related to social causes and measures, always have our bloggers to view upon. Here's what Kamini has to say about PINK.
"With praises coming from all over the country, "PINK" is been like by everyone around. The movie is fast pacing, the story makes you hold your seat and the performances are more than brilliant. So, is this the reason movie being like by people of our country?

The answer is "NO", the essence of movie is its connectivity with Indian Society and culture. The movie shows what people see around them, how people behave around them and you are likely to get yourself relate with at least one character in movie.

Movie deals with the Male dominated society and reflect the ugly face of society in which we live and nurture. "PINK" shows reality as it is, the movie is not about Male chauvinism or hatred against violence of Men. But the movie deals the way society perceives things and act on it. The movie dares you to "THINK" and asks lot of questions."
This was all for this week's Buzzing Blogosphere. We will be back again with all the trending news. Do you have an opinion about what's buzzing around? Let us know and we would want to share your views on the globe. If you think that we missed any buzz, please leave your comments below.