On the occasion of World Heart Day, take a small step with #ChhoteKadam initiative with Saffolalife and keep your heart happy and healthy!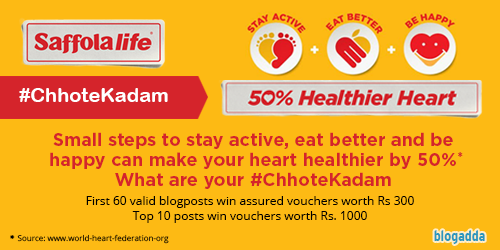 Currently in India, with hectic schedules and sedentary lifestyles abound, most people believe that achieving heart health is a daunting task. As a result, they are stuck in a state of inertia and their heart health suffers. However, recent findings from the World Heart Federation reveal that even small lifestyle changes like being active, eating better, and staying happy can make your heart up to 50% healthier.
This year, on the eve of World Heart Day, Saffolalife inspired India to embrace a fresh, new perspective on heart health. It showed how simple lifestyle changes, specifically staying active, eating better, and being happy, are actually #ChhoteKadam to healthy heart. 
On the occasion of World Heart Day, blog about the small steps that you take to achieve the following: 
Staying Active
Eating Better
Being Happy
Prizes:
Top 10 blog posts will get vouchers worth Rs. 1000 each!
First 60 valid entries win assured vouchers of Rs. 300.
Click on the button below to submit your entry!
Mandates for this activity:
1. The word limit for every blog post is a minimum of 400 words.
2. Please include the line, "I am joining the Saffolalife #ChhoteKadam initiative in association with BlogAdda and follow these small steps for a healthy heart."
3. Share your blogpost on your Twitter profile and tag @Saffolalife and @blogadda along!
4. Only blog posts submitted through this form will be considered valid.
5. The last date for submission of this blog post is Midnight, 5th October, 2016.
6. One blogger can write a maximum of 2 blog posts for this activity.
Blog about your small steps and let your healthy heart sway!