The nine days of poojas, delicacies and dressing up dipped in religion and faith are back. India's most awaited Navratras lead to worshiping of nine deities. Navratri means 'nine nights' and these nights are filled with holiness, garba, dandia, unlimited calories, festive fashion and unending fun. These nine days are often infused with 9 scheduled hues and a devoted fashionista leaves no stone unturned in playing the shade game with God! Let's pronounce this season of Navratri stylishly, each colour giving us a whole new option and a styled look! Here's your chance to look pretty and modish with these 9 outfit ideas that are high-on-trend-meter this festive season as per these queens of fashion on Instagram!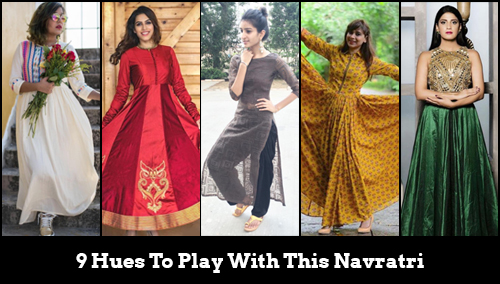 Navratras are not just about Chania Cholis and Dandia nights. For the beauty queens, it's another occasion to doll up with a whole new fashion week! This season festivals are no more about ethnic churidaars and salwar suits, for we have a lot more to add and glamourise the conventional traditional attire! Have a look at these uber ethnic OOTD's who might give you an inspiring outfit to groove with nine aesthetic and trendy looks for this Navratri.
1. Grey For The Baes
https://www.instagram.com/p/BJdEqDPBuk3/
Who said grey is gloomy? Start your Navratras on a simple yet subtle note with a perfect Georgette grey kurti. What's best? You get to play with plenty of bottom options making it just a 'legging' away from a work-space outfit. Kurti and Salwar is the most authentic traditional look for the baes. Accessorize with statement jhumkas and wear this stylish blend like a hottie!
Indo-western outfits have always been in vogue and we have a perfect outfit for you for the next day, your latest wardrobe crush-The Maxi Skirt! Add a trendy crop top to your ethnic look and let the crowd go head over heels. Jagrati took pink shade to a whole new level with this dazzling look and we are absolutely taking style lessons from her this season!
3. Peaceful Bliss With Whites
https://www.instagram.com/p/BFzByeQnmxh/
White is one of the most feminine, edgy and elegant shade in the world of haute couture. The linen maxi dress has surely got the right modern spin and is a welcoming outfit for the approaching autumn. It's a thumbs up when it comes to comfort and style as well! So, step into this one perfectly styled with a pair of silver sneakers and sunglasses and secure your glamour goals achieved for this Navratri.
Let's create some drama and opulence with some red Indian couture. Red being the first festive option, this stunning anarkali is a sure shot pick. Who minds being dressed to kill? This one traditional pick is perfect to carry a style with a topping of desi swag!
Yes, finally the must have colour for Navratri, the blue hue is here for our rescue. This blue long breezy dress is a spiffy new outfit for all the trendsetters. This chic outfit is the ideal choice for garba nights. Dip in some blue and let some compliments come your way this season.
Create some ethereal vibe with bright and chirpy yellow. Get into this snazzy long printed dress and take an elegant look at work. Since maxi dresses and robes are on-go for this festive season, you can switch it effortlessly between an overwhelming office day and the evening pooja. Pair it with statement heels and add some extra dash to your OOTD.
7. Green The Mainstream Colour
Green is the dominant colour in wedding and festive feasts. The golden top embellished with a slick of mirror work and the flowing silky green skirt is a perfect marriage between the contemporary aesthetics and traditional style. For a change, take a leap from the traditional mirror work and wear this outstanding ethnic Chania Choli this season.
This perfectly draped white and purple saree, will add the right glamour to your wardrobe. Play with the pallu and experiment with some saree drapes if you want, and walk the festival ramp into the dandiya with some voguish hint.
When we talk about traditional wear of India, Saree can never stay out. Drape some elegance on the saffron day with this red blouse, and you will definitely be the apple of the eyes for the crowd. Flaunt the nine yards by wearing this saffron sari as illustrated by Pooja.
Let's Play Dress Up With These Add Ons
This Navratri is all about hues of happiness with a glint of style! Let's play dress up for these nine nights of infinite joy and light that are the best days to play with fashion and style.If you wish to pick up more shades and add ons for your next OOTD's. Here is a quick look at some basic style add ons illustrated by Swapnil in the above shared link.