"What? Is there ever an empty train in the world?" "What's an empty train?" If this is what's going on in your mind, you're not alone in your doubts! That's completely understandable. Finding a train which  is devoid of people will make you think you have landed in a completelyĀ alternateĀ dimension, especially if you live in the metro cities of India. And as always, weĀ ask you to think of the impossible, and write about an empty train this weekend.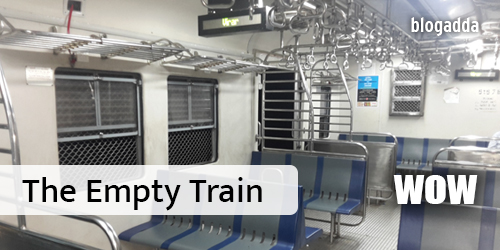 This week's WOW prompt is ā€" ā€œThe Empty Trainā€
A train rolls into a station, you get on and see that is completely empty. What do you do? What goes on in your mind? Does it ring an alarm of suspicion or give you a special solitary ride on the rails? Do you think an empty train can lead to a full story? We want you to buy a ticket and get on this empty train, and write a wonderful blogpost as this empty train meanders through the tracks on its journey. Where will your empty train lead you? Well, this friday give us a glimpse of the destination you are on and the beautiful journey the empty train takes you through.
BlogAdda and Miami BluesĀ will give sunglasses worth Rs. 2500 each to the Top 3 WOW entries.
Bloggers are requested to add the mandate line in their post and submit their entry through the submission form for their WOW entry to be considered valid.Ā Remember, you have time only till Sunday midnight to submit your blog posts and have a chance to get the WOW badge!
Include this code:
'This post is a part of Write Over the Weekend, an initiative for Indian Bloggers by BlogAdda.'
Good news! There is now an easier way to submit your WOW entries, so just click on the submission link below for your WOW entry to beĀ considered valid.

Every weekend, we give creative writing prompts for you to write blog posts. Hope you enjoy our creative writing inspiration for this week. šŸ™'