Words have an infinite power to create ripples, kindle waves of change and etch seeds of passion in every soul they touch. While words come natural and handy to all of us, there are wizards who have the magical power to weave them into their inspiring potions and let their stories open minds to new perspectives and visions. Their tell tales are not only mere words of wisdom, but a conduit to the new world that is full of opportunities and is worthy of every moment lived. NIT Trichy invites you to embark on a revolutionary journey through Carpe Diem, stories that inspire, event in Festember, 2016.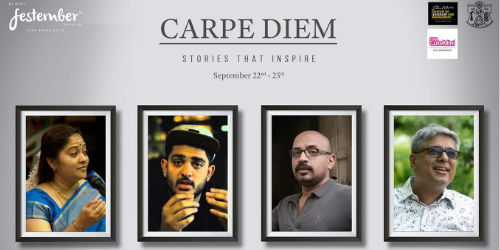 Let this September be all about stories of wisdom and inspiration, right through the words of these pioneers of their industry. The four day event spans from 22nd September till 25th September. Grab the golden opportunity to get a bird's view of the life's journey by S. Sowmya, Sid Sriram, Suresh Triveni and Mahesh Dattani, fascinating individuals who have mastered their fields to the best.
Their inspiring stories will surely keep your engrossed and are sure to spawn positive change and itch your soul to make a difference. Let these captivating stories seize the moment for you. Have a seat at Carpe Diem, NIT Trichy and soak in all that these motivating souls have to offer.
You can find further details at their website at http://www.festember.com/. So? What are you waiting for? Grab a seat and let some excitement hit your daily routine!