With the start-up boom, India has been basking into new arenas, paving its way towards a commendable economic growth. While many ideas have bloomed into promising business ventures, many bright ones lag behind due to the mismatch between the real market and their static plans. To bridge this gap, the Entrepreneurship Cell, a student organisation of IIT Kharagpur takes up an uplifting initiative for the budding entrepreneurs through, Empresario, their Annual and India's only Global Business Model Competition. BlogAdda feels immense pleasure to collaborate with them.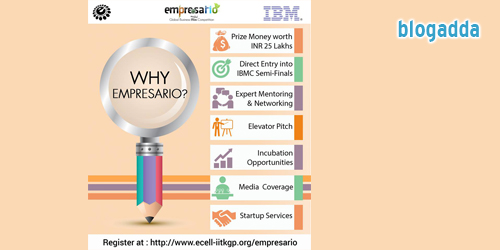 ,
Entrepreneurship Cell, IIT Kharagpur is a student organisation woven to inculcate the spirit of entrepreneurship in its fellow students and to bloom ventures by backing them with the right support and vision. It is one of the most successful entrepreneurial organisations in the country with over 50 start-ups incubated within 8 years of its inception. The cell is playing a pivotal role in developing the upcoming ventures and startups into successful companies by taking great initiation of conducting its flagship competition namely Empresario, our Annual and India's only Global Business Model Competition.
Empresario 2016 in association with the prestigious International Business Model Competition (IBMC) which is co-hosted by Stanford, Harvard and Brigham University invites budding entrepreneurs from diverse fields to showcase their business models. The best entries get an opportunity to participate directly in the semi-final rounds of IBMC 2016, which will be conducted abroad. The shortlisted entries will get the the right mentorship and the winners badge the exposure to prominent VC's and investors in the industry, along with an incubation amount of upto 2.5 crore INR. The Entrepreneurship Cell holds its flagship event – Global Entrepreneurship Summit (GES), the largest collegiate entrepreneurial summit in India every year in January. The final rounds of Empresario 2017 will be held during GES'17.
For the first round of Empresario, the participants are required to fill and submit a questionnaire briefing about their business idea. The quesionnaire can be found on their website at www.ecell-iitkgp.org/empresario. The participants who register now can also avail the Early Bird privileges, which include the mentoring and offline mentoring session.
Do you have an idea or a plan that has potential growth in the business world? Well, this is your chance to take your dream ahead and find your business model the place it deserves. Register your idea with Empresario and discover the entrepreneur in you.