They say laugh and the world laughs with you! Well, we don't know about the world, surely Twitter laughs with BlogAdda every Monday as we  get barrels of daily funny tweets with our #PerkyTweets! Surely, happiness doesn't take more than a few characters! So for all those who are having 'Monday' issues, here are some giggles tweeting especially for you!
Can you make people chuckle with your tweets? Well, why leave us behind? Submit your tweets to us on this link!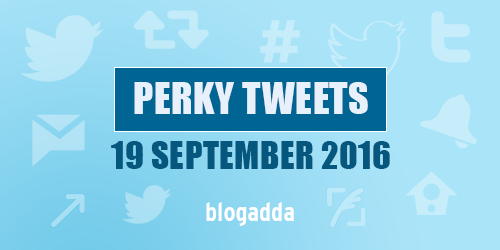 Eagerly waiting for Baigani, Bhoora, Jamuni, Rani Colour, Mehndi Color. pic.twitter.com/x83ux4DjIK

— Raunak (@MeraHandle) September 16, 2016
Who writes good Engineers' jokes?- An Engineer
Who understands engineers' jokes?- An Engineer
Who laughs at engineers' jokes? – An Engineer

— Sir_Caustic (@meBlack_Sheep) September 15, 2016
what does a ganesha's idol and an engineer have in common?

even if you drown all of them this year,more will be made next year

— God Particle (@Gott_Partikel) September 15, 2016
*Girl before marriage*
जिसको जानती नहीं उससे शादी कैसे करलूं 😒
*1 week after marrige*
😘Best hubby in the world love u sweetu 😘
* Waah * 😮

— S h u s h a n t (@whoshushant) September 17, 2016
Women in Mumbai local be like 😂😂https://t.co/WRveHqcDBg

— Anki (@Miss_Ankiita) September 17, 2016
[on a phone call]
"Mil ke baat karte hai"

[in person]
"Phone pe discuss karte hai"

— Bobby (@boobydeol) September 15, 2016
Even chennai expresses its feelings but she doesn't.

— डी.के. (@itsdhruvism) September 17, 2016
At a funeral…..
Me: What's the WiFi password here?
Priest: respect the dead
Me: Is that with capital "R"

— Muma Smurf (@Muma_Smurf) September 16, 2016
her- wow, your house has a very cool feel to it
me- it's minimalist styled
h- how do you decide what's not needed
m- i don't, my salary does

— Rohith Sundararaman (@rohsun) September 16, 2016
https://twitter.com/tyrantasorus/status/777141317419737088
Well, we had a great time rolling on the floor laughing, we hope the same for you! Do you too have a great tweet? Submit it by tagging @blogadda in your tweets with the hashtag #PerkyTweets!