Do you spend half of your shopping time finding the perfect accessories? Does it hurt when the tiniest of trinkets make your jaw drop with their price tags? Is half your time online spent gazing at unique accessories that can take any outfit from drab to fab? Then you're in the right place. This week, we get to you some of this season's hottest accessories for which you don't need to depend on any store! The Do It Yourself trend has been increasingly gaining momentum in the world of fashion. You've seen how to style and give a new lease of life to outfits in many posts, and now is the time for accessories that you will not just wear, but create too!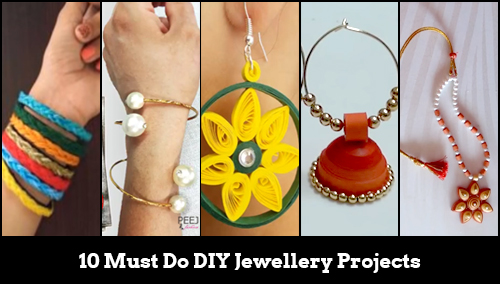 We wear our hearts on our sleeves and our attitudes on our neck. Along with chunky necklaces, chokers are having their moment in the spotlight. Which also means that the prices for the simplest of chokers are enough to make your neck close up! So here are some DIY ideas that can get you more chokers for less!
Head gears or Matha Pattis have made a huge comeback this season! This ravishing DIY style is a true head turner and can round up your perfect boho look. Step into the ethnic mode or flaunt this with a uber stylish maxi dress, for this one is a versatile DIY!
Love tattoos but feel commitment phobic? These Flash tattoos are temporary and can be done at the last minute. If you are good at drawing, the sky is the limit when it comes to the designs you can flaunt. Try these out!
https://www.youtube.com/watch?v=8QxlpAW1keQ
'I have enough of them' said no girl about her earring collection. Well, here's your chance to chalk out some new beautiful pieces with paper quilling! Subtle, simple and quirky, these are a must have for the teenage years! Also, if you get a variety of coloured papers, you can surely make one to match every outfit.
If you've gotten the hang of making paper quilling earrings, the next stop can be a necklace that you make just in time for the festive season! Paper quilling is all the rage nowadays, so get ready for some compliments when you wear these, and some envy after they find out that you have made them yourself!
Nothing can match the class and regality that pearls ooze. We're completely convinced of that after watching this DIY pearl bracelet. It does need some basic sewing skills and a sharp eye to make, but just take a look at the finished product! <3
7. Hairbands For The Beautilicious
A little throwback never hurt anyone, and hairbands are the perfect way to indulge in nostalgia. Strict school rules meant we had to wear boring hairbands in childhood, but now you can go all out and be as flamboyant as possible! Here's a start.
8. Bangle Up!
The festive season is round the corner and we could do with some shringaars of course! What could be better making 'mere haathon main nau nau choodiyan hai' come to life? Use your handy skills to decorate your wrists with these bangles, that look quite elaborate. Let Ashli reveal the secret!
https://www.youtube.com/watch?v=JRY7oG0JWPI
Wish to take a break from all the difficult DIY projects (which are really not that difficult?). Here is a super easy DIY ring that will get glamour and elegance at your fingertips, quite literally!
10. Twist And Twirl
We all have that one bangle that has lost its twin. Instead of making it retire and saying goodbye to it, you need to glam it up and help it lead the single life. Twist a metal bangle with some pearls at the end, and flaunt your perfect DIY cuff piece.
With these amazing designs and creations, we are surprised by the sheer creativity and style spilling all around us! What are you waiting for? Dig into some unused stuff, add in a pinch of your own style and creativity from these amazing bloggers, and let us have a look at your final DIY jewellery pieces! We will be delighted to get some unique DIY ideas on our Instagram page!