There are few things that are as pleasing and as ego boosting as making people laugh. People who make others laugh are looked upon as being desirable and positive, and who doesn't want to be both these things, right? Here are this week's best tweets that made us laugh or snort through our noses at least, in the latest edition of #PerkyTweets. Let us know which ones struck you as the funniest so we know what you like!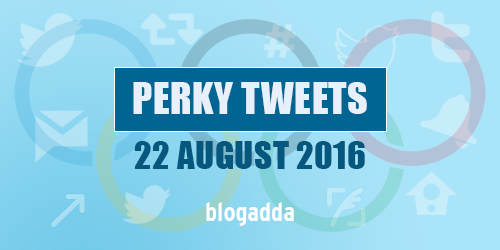 Q: Who was the savior in the movie Mohen-jo-daro?
A: Interval #Perkytweets #CelebrateBlogging @blogadda

— Rashmi Regina Ekka (@rashmiregina) August 17, 2016
13 Years of Emraan Hashmi and 8 Years of Bachna Ae Hasino trending together, I guess I needn't say more #PerkyTweets @blogadda

— Cifar (@cifarshayar) August 14, 2016
If Andy Murray marry with Sana,
.
She Becomes Sanam re 😂😂😂

— Rahul Prajapati (@RahulReply) March 12, 2016
@blogadda #Perkytweets I am like negotiating on hostages when my two year old holds my smart phone UNLOCKED and connected to INTERNET💫

— jey (@jeydevi) August 18, 2016
@blogadda
Bachpan me hum Waha sona pasand karte the jahan se chand taare nazar aate the & aaj Waha jaha
Charger ki pin lag sake. #PerkyTweet

— ☺HaPpY fOrEvEr☺ (@kalpeshrana111) August 21, 2016
#PerkyTweets #devilThought
If u see a flash mob join it to make it feel like they didnt practice enough. @blogadda #CelebrateBlogging

— Malavika Mavinakuli (@malavikavtiwari) August 21, 2016
@blogadda #MiamiBlues #PerkyTweets
I get numerous chances to become a millionaire daily. All I have to do is open my 'Spam' folder.

— Sangeeta Mistry (@mistry_sangeeta) August 21, 2016
Justin Trudeau is celebrating Indian Independence Day!He is so great!

Modi is celebrating US I-Day. Bakwaas.No time for india#hypocrites

— Natasha A. (@Grammar_nazzzi) August 18, 2016
Look at the bright side. Ten years from now, you might be failing miserably at life, but at least you won't he the kid who got Harambe shot.

— m (@Psilosophy) August 21, 2016
Worst part about being married is being in two family whatsapp groups.

— Animisha (@anymysha) August 18, 2016
Hope this chuckle-worthy post was an enjoyable ride for you. Have you tweeted something funny recently or come across a funny tweet? Tag @blogadda and #PerkyTweets or submit them to us here. You'll get a chance to be featured here and also a chance to win cool Miami Blues sunglasses worth Rs. 2500!