We're back with this week's Buzzing Blogosphere. The buzzing news for the last couple of weeks has been the Rio Olympics. This Sunday marked the closing of Rio 2016, and the official handover for Tokyo Olympics 2020. This year's Olympics have been a bittersweet journey for India, with some wins, some near misses, some just downright disappointing. Yet, as Indians we know how to make the best of even the most minor things, which is applicable to both Indian spectators, and Indian athletes. Don't worry, bloggers have been very vocal about it all, so let's dive into the news pool, shall we?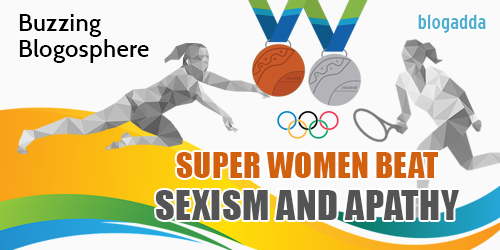 India wins at Olympics
Despite some close misses with Dipa Karmakar missing out on scoring a medal by a whisker, Indian athletes did not leave Rio empty handed, despite of what *some* people claimed. The first person to score a medal for India was Sakshi Malik, as Suryakant Tripathi states.
"India's Sakshi Malik won a bronze medal in the wrestling 58kg category after the Indian beat Aisuluu Tynybekova 8-5 in the bronze medal bout. In a thrilling contest, Sakshi fought back from 0-5 down to seal the bout 8-5 in her favour. With seconds left on the clock, she produced a three-point move to seal the bout and India's first medal at Rio 2016 Olympics."
While India was still celebrating this great news and basking in the after effects of the win, we were granted with more good news. Indian Badminton Player PV Sindhu had secured a medal, the only thing that remained to be seen was whether she'd bring home a silver or a gold. As Pramit Mazumdar reports, it was a silver.
"Indian shuttler PV Sindhu settled for silver at the Rio Olympics 2016 after being beaten 21-19, 12-21, 15-21 by World No 1 Carolina Marin of Spain in the badminton women's singles event on Friday. It is India's second medal in the Rio Games after wrestler Sakshi Malik bagged bronze in the women's 58kg category on Wednesday… It was a historic occasion for the Indian sports fraternity, as she not only became the first Indian female shuttler to reach the final of the Olympic badminton singles event, but also became the first woman to win an Olympic medal other than bronze. Enjoying the support of a decent Indian turnout at the venue, she dominated the game for the most part, conceding the lead only momentarily at the start of the second set."
The man behind the mask
Indian athletes have worked extremely hard to go on to compete on a worldwide level and get international recognition for their abilities. While nobody can deny the amount of hard work and persistence that these women have put, credit also goes to their parents, family, and to their coaches. Because they are the hidden pillars behind the monuments of achievement that these women have built. They are ones who supported them, encouraged them, and saw their hidden talents. Komal Panwar brings the team behind wrestler Sakshi Malik into the limelight.
"Sakshi Malik, the woman who brought home India's first Rio Olympic Medal. In her family, she was the only one with big dreams and dared to put on wings to fly with. There were some people in her life who encouraged her to grow, and they, in the truest sense are her wings.It was her coach Ishwar Dahiya who made girls and boys wrestle together, "I was told that I was mad to try and have boys and girls wrestle together. Kya sher aur bakri ek ghat se peete hain? But, I could never think that women were the equivalent of goats. And I was right, wasn't I? Hasn't Sakshi turned out to be a Lion?…Her parents were always by her side, and her mother, Sudesh, couldn't care less about the stereotypes, and the gossip of the society…Sakshi had the courage to win all, and with the support of her family, she finally managed to kick asses and shut the people who didn't believe in her."
As is the case with Sakshi Malik, so it is with PV Sindhu. She has gotten where she is due to her own dedication, as well as the hard work and dedication of her family and her mentor, her guardian, her coach, Pullela Gopichand. Pomil Bachan Proch gives us a glimpse into the man.
"He is the silent guardian, the skinny watchman who guards the national treasure. He is barely animated. He has no visual delight about him and can be easily mistaken for the average nobody if you have never heard about him. His presence is underwhelming, often drawing less than required attention from the cameramen. He barely utters a word on the court. He watches, observes and advises his minions on the court, all in a minimal fashion. He has an assured calmness about him. He is the godfather of Indian badminton, he is Pullela Gopichand, the Don Vito Corleone of Indian badminton. A gold medal at SAARC badminton tournament, a silver in the team event and a bronze in men's singles at 1998 Commonwealth Games and winning the prestigious All England Open Badminton Championships at Birmingham were the crowning achievements of his career. Arjuna Award, Rajiv Gandhi Khel Ratna, Padma Shri, Dronacharya Award, Padma Bhushan have been deservingly showered on him. Now that his playing days are long over, he still does his bit for the game he loves. Being the visionary that he is, he found the Gopichand badminton academy, a badminton training facility in Hyderabad, India. Setting up this academy involved mortgaging his house for 3 crores, how is that for the love of the game? He has unraveled various gems for India. The facility which gave India its badminton stars such as Saina Nehwal, Srikanth Kidambi, PV Sindhu."
The turbulent relationship between India and Olympics
These coaches and the families of our athletes should be commended for supporting the dreams of our athletes and sportspersons. For many, this support is what differentiates between winning a medal at the Olympics and not pursuing a sport at all. Can you imagine how many athletes and how many Olympic medals has India lost, just because these prospective gold medalists were persuaded that sports is not a "REAL" career. Jyoti Singh comments on how Indian parents hold their children back.
"Problem is we judge success of a person by the amount he is earning; not by how many medals they have won in a sport, or by how content he/she is with what they are doing. We want to make our kids engineer, doctor, manager, business person; but not sportsman, maybe a cricketer but not any other sport. We want them to work in a multinational company sitting in a centralized office; not sweat for India in an unkempt stadium. We want medals but we don't want to be sports players."
Yet there might be some parents that support their children's dreams. Those that will do anything for their children, including paying for their training. But then the question is where do they send them? Who will train them? As Jyoti Singh further points out, our government does not provide any support or infrastructure to help facilitate a sporting culture.
"Our government has not built proper stadiums for our kids. Our schools do not have good coaches. We do lack infrastructure. We don't have swimming pools in every society, we do not even have gymnastic poles accessible, no diving place, no biking lanes, no running track. This is a major deterrent in motivating our kids to pick up a sport. Whatever government provides through sports budget; that is eaten up by the bureaucracy and corruption."
Sanjeev Singh also supports this viewpoint, further illustrating the paucity of support that Indian athletes are faced with.
"India's hopes for an Olympic medal in boxing went up in flames when Vikas Krishan lost 0-3 to Uzbekistan's Bektemir Melikuziev in the quarterfinals of the 75kg category in Rio…Krishan has now gone on record to say that he could have got the better of his opponent had he been given access to compete with high-quality boxers outside the country. This has once again put our sports administration in the dock for callousness….Gymnast Dipa Karmakar narrowly missed out on a historic medal, but won everyone's heart with her inspired performance. She too was a victim of official apathy when her physiotherapist was not allowed to accompany her for the Rio games….Athlete Dutee Chand made her 36-hour journey in economy class while sports officials flew business class to Rio. For marathon runner, Nitendra Rawat, it was a struggle to buy good quality running shoes despite having qualified for the 2016 games and it took a dental surgeon to sponsor the same for him."
In addition to all that, the sad reality is that most Indians don't care about sports. We don't understand sports. Our only passion is cricket, and most people won't even be able to name other illustrious names in sports that are not cricket. Even then, how many parents want their children to play cricket professionally? Debdutta Bhattacharjee further illustrates this point.
"Ours is a country where there are hardly any takers for a majority of Olympic disciplines, where ace gymnast Dipa Karmakar has to convince people that what she does is no circus, and talented national-level athletes are made to do menial jobs to make a living. In India, if you are not playing cricket, you are on your own. There is scanty infrastructural or monetary support and training facilities are primitive. Diet plans for athletes are not scientifically planned, which results in poor muscle mass, stamina and strength of the players. Poverty and a lack of access to quality food is one of the main reasons for lack of nutrition among a large number of Indian players."
Debdutta Bhattacharjee also highlights the prevalent sexism that Indian women athletes have to face, while also pointing out that women athletes have been the ones to get medals back to the country.
"Sakshi comes from Haryana, a state notorious for preferring sons over daughters and where female foeticide is rampant. It is a state with a terrible sex ratio (the number of females per 1,000 males) of 879 (Census 2011)…Such has been the vice grip of patriarchy in Haryana that even Saina Nehwal, one of India's greatest badminton players of all time and a former Olympic medallist, who hails from the state, revealed some time back that her grandmother had refused to even look at her when she was born.What has the government done to combat this mindset of son preference? Women athletes though have been the ones saving India the blushes in Rio. Sakshi, Sindhu, Dipa Karmakar, Lalita Babar, Aditi Ashok – India has been running on woman power in this Olympics."
Some women get longer maternity leave
While we Indians love to blame our government and to showcase its shortcomings, it not all bad. Our government does try sometimes to introduce reforms. One such case is when the Parliament amended a law to increase maternity leave for working women from 12 weeks to 26 weeks. This is a greatly praised move, with everyone commending the government. However, the amendments are not all inclusive, and as Menaka Rao points out excludes the largest working segments of the country, i.e. women from the unorganised sector, are ignored.
"On August 11, Rajya Sabha passed amendments to the Maternity Benefit Act, 1961, increasing the period of maternity leave from 12 weeks to 26 weeks, which is over six months. The amended law also mandates a company to have a creche if they have more than 50 women employees. But this covers only the organised formal sector of work and leaves out people like Tiniben [construction site worker]…"We welcome this amendment," said Sudeshna Sengupta of the Alliance for the Right to Early Childhood Development. "At least for the first time, some women would get the benefit of having six months paid leave. But this would apply only to 18 lakh women." Sengupta said there are 2.97 crore pregnant women in the country any given time. "See how many women we are leaving out," she added."
Happy Bhag Jayegi – A fun timepass
This week, the Diana Penty and Abhay Deol starrer Happy Bhag Jayegi, a 2016 Indian rom-com directed by Mudassar Aziz released. The movie is about a reluctant Indian bride who runs away before the wedding and finds herself accidentally transported to Pakistan. Murtaza Ali Khan gives his own analysis of the movie, as well as his review.
"Happy Bhag Jayegi is the kind of cinema that the Hindi film audiences adore. It is a formula that just cannot fail in a diverse and colorful country like India. We Indians love to celebrate. The dozen or two religious festivals are just not enough. Festivities are an innate part of our lives. And marriage functions are the grandest of them all… For Bollywood, it's a bankable subject like no other… Overall, Happy Bhag Jayegi is a non-stop entertainer, an absolute laugh riot, from start to finish, but, in order to fully enjoy the film, one needs to be credulous enough to believe anything and everything that's on offer. In other words, the viewer must be willing to suspend the disbelief concerning the implausibility of the narrative."
While most people seem to like the movie, at least enough to let it get by with some implausible things, not all were fans of the movie. Avijit Das Patnaik tell us the problems he believes the movie has.
"Happy Bhag Jayegi (HBJ) belongs to the 'Chameli Ki Shaadi' to 'Dolly ki Doli' genre of film making – good, clean, fun entertainers; let down a bit by melodrama in the second half… A star studded movie like Rustom can get away with average treatment, unoriginal story and still mint 100 crores. But when your leads are, a comeback after four years, Diana Penty, and super talented yet occasional side heroes, Abhay Deol and Jimmy Shergill, the project needed to be bang on the buck every minute to make money… 60% of the movie is a refreshing 4/5, rest is subject to your melodrama taking ability inside a movie hall."
The highlights of this week mainly included the Olympics, as well as the ever ongoing debate of sexism, bureaucracy, and apathy that is prevalent in India. What is your take on this? Do you think that these characteristics are holding Indians back? Do you think that these problems are not really that prevalent? We'd love to hear your take on this in the comments section below.