Have you seen the date today? It's 08/08/16. 8+8=16. Geddit? If you're tired of seeing such jokes on your Whatsapp and Twitter, we have #PerkyTweets to rescue you! We bring for you a collection of funny, thoughtful and all round awesome tweets that will make you happy! Ready? Here we go!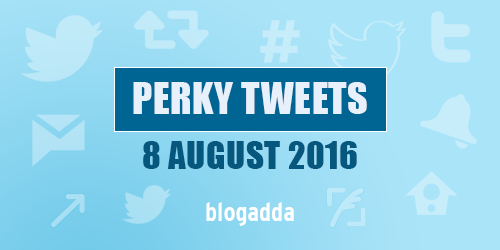 Year 2020
Mom, what is this small smooth piece on the highway?
Son it's called road, it's there to make sure the potholes stay in position

— Cyril D (@CyrilDabs) August 8, 2016
Michael Phelps is the Bappi Lehri of #Olympics

— Sand-d Singh (@Sand_In_Deed) August 8, 2016
@blogadda waterlogging in the rains cleans India that keeps Bharat Swach & the cities become smart by self cleansing #PerkyTweets

— yvsmadhav (@yvsmadhav) August 6, 2016
Q: What do you call believable Shayar?
Ans Ghalible? 😜 #perkytweets

— K. Venugopal Menon (@VenuSpeak) August 5, 2016
#PerkyTweets
That day is not far when Musical Chair in India will also have few seats reserved !

— Games Bond (@princepatni) August 6, 2016
High end SUV trapped in mud near Khadakwasla. No one can beat the nature but the owner rescued it with his wit. pic.twitter.com/xOtz1jqrSi

— इंदीवर (@frozenmusik) August 7, 2016
bookmyshow, makemytrip, alleviatemyennui

— Vishveshwar Jatain (@eclecticV) August 6, 2016
Amazing commentary in #Hockey
Comm 1: "Aapke mooh mein ghee shakkar…"
Comm 2: "Lekin main sugar free diet pe hoon…"#TrueStory #Rio2016

— Diptakirti Chaudhuri (@diptakirti) August 7, 2016
Why are people not uploading water logged road images how am I going to tell my boss that i cannot come to office tomorrow

— no (@mumbaiifreak) July 31, 2016
If you don't do the mandolin part "Tan tan tananananana" have you even really sang Maine Maiye Munder pe tere while playing Antakshari.

— Aditya (@Brewkenstein) August 7, 2016
Done and done! Did you enjoy this week's edition of #PerkyTweets? So did we! And as promised, a few lucky ones among these tweeters will win Miami Blues sunglasses! Keep an eye on your Twitter inboxes. You can also submit your original funny tweets here with #PerkyTweets or send them here so we can see them!