It's Monday again, which means that it's time for this week's news round up in the weekly segment we call Buzzing Blogosphere. The past week was very happening, if we may say so. We're sure bloggers agree, as they blogged about the many updates that came pouring in from news channels and social media. So, let's just go ahead and dive in, shall we?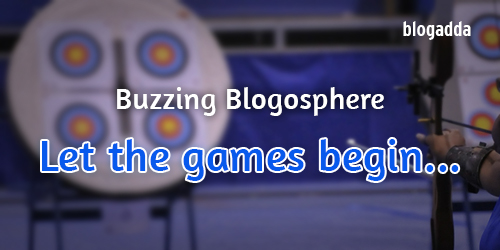 The start of Rio Olympics 2016
The Olympics – a grand competition where Gods challenge each other, while us mortals can only watch in awe. One can't help but be fascinated by the might and ability of these champions, as they do things that we can't even dream of. YouthFulLunatic describes their obsession with the Olympics.
"What Is Olympics? The Olympics is all about:- Citius, Altius, Fortius. These 3 Latin Words make up the Olympic Motto. The words mean Faster, Higher, and Stronger respectively. To win the age old belief that participation in the Olympics is enough does not exist anymore. [pullquote]Everyone has a desire to win an Olympic medal because it is the most prestigious competition in the whole world. [/pullquote]Even professional athletes come to play… The Olympics is madness for every athlete participating in it. When an athlete wins an Olympic medal, his satisfaction and happiness is very similar to a person who finding water in the middle of a desert. The Olympics helps a human surpass his limits and develop his abilities and skills. Simultaneously, it also helps a nation stretch its limits and abilities to host one successfully."
Like every country, India has also sent their contingent to try to grab as many medals as they can. The blog DailyKaruthu gives the breakdown of the 119 contingents that India is sending as representatives to Rio 2016, as well as their chances in the competition.
"Rio Olympics begins this week and We have 119 athletes participating in the RIO Olympics. The largest contingents that we have ever sent to Olympics. [pullquote]It is good that we are able to send such a large contingent and I am sure the more we participate the more the chances we get in terms of winning medals at the Games.[/pullquote]"
One of these chances is provided by Dipa Karmakar, an Indian gymnast that has qualified for the Vault finals in the Olympic Event. What's more, she is the first Indian female gymnast to qualify for the event. In fact, looking at the statistics she has a real chance at bringing home a medal, and making our country proud. Dipankar Lahiri announces her qualification with gusto.
"[pullquote]23-year-old Dipa Karmakar has qualified for the final of the Women's Vault in the Artistic Gymnastics final to be held on 14 August.[/pullquote] She has finished the qualification stage at eighth spot in this apparatus, helped by her usually prodigious score on the Produnova, the 'Death Vault'… Shallon Olsen of Canada was the only gymnast to make it into the top 8 from the last subdivision, thus ensuring that Dipa's 14.850 finished among the best in this category."
While almost the whole world will be glued to television and social media for as many live updates as they can get, they will be thoroughly disappointed as the IOC has prohibited the media from broadcasting any live footage, including the use of Vines and GIFs. Amit Sinha describes the outrage that this decision has created.
"[pullquote]Social media users were angry on Thursday after it came to notice that the International Olympic Committee had banned news organizations from creating Vines and GIFs for mass sharing over social media. [/pullquote]The IOC's guidelines for news outlets covering the Rio Olympics clearly state – "The use of Olympic Material transformed into graphic animated formats such as animated GIFs (ie GIFV), GFY, WebM, or short video formats such as Vines and others, is expressly prohibited." However, the rule which will not go down too well with many tech savvy media persons following the game was brought to notice by Natalie DiBasio, a digital editor at USA Today. And the knives were out as people expressed their anger and amusement over the ban on social media."
Nita Ambani becomes first Indian to be nominated to IOC Board
Just a day before the Opening Ceremony of the Rio Olympics 2016, India received a pleasant surprise. Nita Ambani had been officially elected as a member of the International Olympics Committee (IOC). This is big news for India as she is the first Indian to be elected to the prestigious committee. Additionally, this is great news for women empowerment, as the first Indian to be elected to IOC is a woman. Chirali Sharma highlights why Nita Ambani was nominated for the position in the first place.
"[pullquote]… on the 5th August 2016, Thursday, Mrs. Ambani was officially elected to become a member of the IOC[/pullquote]. A known face among, Mrs. Ambani has for quite a while now shown great support and enthusiasm towards sports and arts and cultural activities. One of the things that greatly elevated her name was due to her creating the Indian Super League which was largely focused on football, a sport that was till a few years back not that known in India.
However, not everyone is happy about Nita Ambani representing India on this prestigious committee. They feel that Sachin Tendulkar or Vishwanathan Anand would have been better choices as nominees. Many claim that Mrs. Ambani doesn't have the appropriate sports background to effectively represent us. Apoorva Pathak cites the reasons why she is disappointed with this development.
"Should we be jubilant that an Indian, that too a woman, would be there on the IOC?… The short answer would be "no". Nita Ambani's appointment is neither a conquest for sports in India, nor a victory for Indian pride or the feminist movement. In fact, it is a shame for the following reasons:… [pullquote]Nita Ambani, aside from being the wife of India's richest man has little personal achievements to her credit[/pullquote]… But Nita Ambani, whose claim to fame is her leadership of the Reliance Foundation, is the beneficiary of a group that has been been famous for breaking the rules (or rather getting rules tailor-made for itself)… It's an insult to ordinary Indians like you and me that no other Indian – somebody who is self-made and above reproach – was considered for nomination to the IOC."
Dalits vs Gau Rakshaks
The confrontations between Dalits and Gau Rakshaks have reached an all time high. Gau Rakshaks blame Dalits for disrespecting cows, who are sacred for Hindus. On the other hand, Dalits claim that they are only doing the jobs that were assigned to them since the British Age, jobs were deemed appropriate for untouchables; the jobs that have become their only livelihood, which they carry out with diligence.
The instance that brought this issue to the limelight is when four Dalit youths were not only beaten up for skinning an already DEAD cow but were filmed during the entire ordeal in Una, Gujarat. Kancha Ilaiah Shepherd points out the things that lead up to this flare up.
"The serious implementation of the Congress cow protection laws with some new BJP cow protection laws started during NDA I. A new ideology called "skin for skin" (like eye for eye), if Dalits skinned a dead cow, took shape. [pullquote]The underlying message: A dead cow's skinning is equivalent to the skinning of living Dalits.[/pullquote] Under NDA 2, the gau raksha programme assumed force because now the BJP is in full control of the levers of power. This time gau raksha means Dalit bhakshan. In state after state, very strong laws of cow protection have been brought in, affecting Dalit and Muslim economy and employment."
Hamna Hisam points out that even though this issue is happening in Gujarat, we are all at fault, because we, as a society, are letting it happen. Not only do we let it happen, there are many among us who will even try to justify the events.
"We bring up religion to suit our taste, i.e., to justify the harsh punishments awarded to the cow harassers. When that weapon goes wasted because this time, it's the case with Dalits, we contend with how sacrosanct our second mothers- cows- are. It's only when we litter our country roads with plastic, among other things, that we forget that our second mothers might choke on our garbage and die. We are all murderers, we haven't just realised yet. We are all partners in crime because we see the injustice and dismiss it as another triviality because this is what we have stooped to and this does not seem close to ending any soon. [pullquote]Perhaps all these incidents explain the proverb "Gaai hamari maata hai, hamko kuch nahi aata hai"[/pullquote]."
The truth of the matter is that these events are wrong and someone should be held accountable for these cases of violence. This includes people who take law into their own hands and the political parties that are manipulating people's sentiments and pitting caste against caste, religion against religion, and Indians against Indians.
Gujarat's CM Anandiben Patel was forced to resign after these violent incidents have come to light. Vijay Rupani has taken her place as the head of the Gujarat state government. Sanjeev Singh highlights the situation behind the accession.
"[pullquote]The dramatic turn of events leading to the elevation of Vijay Rupani as the chief minister of Gujarat has taken most by surprise. [/pullquote]Rupani's deputy will be Nitin Patel who had hogged the limelight through the day and even accepted congratulations from reporters when being told he could be the new chief minister… What seems to have tilted the balance in favour of Rupani is his proximity to BJP chief Amit Shah. Many of Anandiben's supporters have viewed Rupani with suspicion and even blamed him for keeping the former chief minister unsettled in her position for the past one year. The fact that the Anandiben camp put her weight behind Nitin Patel seems to have actually worked in favour of Rupani in the presence of Amit Shah. The uneasy relation between Shah and Anandiben is well known in political circles ever since she became chief minister in 2014."
Rape: Every Indian Man's Prerogative
Speaking of crimes against an entire set of people, what can be more deplorable than rape, a crime against women who make up 50% of the population on this planet. In yet another case in India, a woman and her teenage daughter have been gang raped. What's even more shocking in this case, is that the rapists stopped a moving car on the highway in Bulandshahr, UP, pulled out the mother and daughter and raped them in front of the father and brother. While sadly these types of cases are not even shocking anymore, what is shocking is the fact that there was yet another rape on the same spot just 12 days ago, as Sandeep Rai points out.
"[pullquote]This is not the first time such a case has happened here", say residents of Dostpur village where a gang of robbers raped a 35-year-old Noida woman and her teenage daughter after waylaying their car on Friday. [/pullquote]According to the villagers, just 12 days ago a few men had "brought a woman in a tempo and gang-raped her late into the night".Crime has become rampant on this stretch as it is deserted with no streetlights or police picket, locals say."… Govindpal Singh, another village elder, said, "Rapes happen here every few months but everyone is not able to muster the courage to file a report with the police. Even police don't file cases even as the dangerous stretch has become a safe haven for criminals who often target travellers here. Had the police been vigilant in its patrol, the crime could have been averted.""
Many Indians are now losing patience with the police and the Indian judicial system. The police rarely do anything in these cases, and even if the culprits are somehow caught, they are often let out on bail and barely punished. Cifar Shayar is one such person, asking the government to at least punish the rapists.
"The fact is those rapists are still in the jail enjoying government's hospitality and the rape crime or crime against women having increased manifold since 2012… [pullquote]My question is what made these rapists so fearless? The answer is weak justice system. [/pullquote]The courts which are safeguarding our constitution have failed in ensuring justice in such cases due to incompetent police system and the loopholes left in every law by the lawmakers… Why India can't make such strong laws? The answer lies with the parliament where one third MPs are criminals, how can they make laws to punish themselves? In most of the rape cases also we see involvement of MPs, MLAs, councilors, policemen or their family members or associates who never get punished. They roam freely with law on their side result of which we see such heinous crimes daily."
GST Bill : Good and Services Tax
It is a known fact that the Indian legal system is a mess, as is the economic system that is in place. The economic system is a hodge podge of laws that often contradict each other, allowing some people to take advantage of the loopholes left in the system, while others are just left boggled trying to make sense of it all. The GST Bill is a bill that aims to simplify the Indian economic system, at least in the regard of Goods and Services Tax. The blog, Be Money Aware tries to clarify what the GST is and what it aims to do.
"[pullquote]The Goods and Services Tax bill or GST Bill, touted to be India's biggest tax reform, will simplify the current system of taxation. [/pullquote]The bill will convert the country into a unified market by replacing all indirect taxes with one tax. Hailed as the biggest tax reform since independence, the one-nation-one-tax regime will convert 29 states into a single market."
The passing of this bill has left some fuming, while others are celebrating. However, majority of the aam people are just confused. Vishal Kale points out why we should all not be celebrating this achievement yet.
"The point I would like to make here in bold italics is that everything, literally everything, depends on the final draft that sees the light of day; what are precise rules, the exact rates, the exemptions, what is in and what isn't; impact on competitiveness and the rest of it will only be clear once the final version is in and all is known. Till then – we can remain hopeful for a great positive impetus on business, and little else in specific terms. [pullquote]Only one thing is certain – ease of doing business across state boundaries will have a sea-change, along with all its attendant benefits in terms of cost, market access, logistical and supply chain management impact, etc.[/pullquote] For the rest – we have to wait for the full details to come in, then and only then can a firm picture emerge."
So, as previously mentioned, it has been a news packed week. So much has been happening all over India that we had a tough time picking and choosing the blog posts to highlight. Do you think we covered it all? Do you think we missed out on something important? Please do let us know in the comments below.