As adults, we think twice before calling anyone a friend. But in kindergarten, all it takes is a 'Hi!' or a shared tiffin to lay the foundation for a friendship that soon turns into 'best friendship'. Remember those carefree days? Sitting together in classes and then getting thrown out of class for talking too much? Combining pocket money to buy chaat or kacchi kairis after school? Were you the kind of kids that made fun of teachers after class? Or sneak out of class to hang out or watch the latest movie? No matter what it was you did, or liked to do, chances are you did it with your best friend; your chaddi buddy; your brother/sister from another mother. Do you know what your oldest friend is doing now?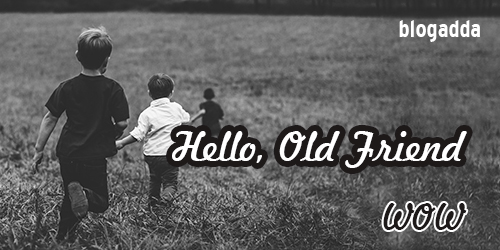 This week's WOW prompt is- "Hello, Old Friend"
Sadly as time goes on, we lose touch with our best friends. We go to different universities, or get jobs in different cities. Sometimes, even living in the same city, we get too busy with our own lives, losing track of each other. Of course, we vow to keep in touch, but days become weeks, weeks become months, and months become years; and best friends become people we used to know.
Well, all that is about to change. Why? Because, it's Friendship Day! How? Because, we're going to enable this change. So, for this week's WOW prompt, you have to write a letter to your friend. And not just any friend, your oldest friend, your best friend, the friend who taught you the ABC of friendship. Tell them about your life, reminisce about the old days, and see what they're up to now. You might still be in touch with them or even meet them regularly, but chances are that you don't tell each other how much you mean to each other, because it's supposed to be a given. This Friendship Day, write a letter to your oldest friend, and let the world know your version of friendship.
And what's more, WOW us with your letters, and the top 3 posts will win a pair of sunglasses, one for you and one for your friend, courtesy of BlogAdda and Miami Blues. Want to increase your chances of winning the sunglasses? Post a picture of you with your friend on Instagram, tag @blogadda and add #CelebrateBlogging and #HelloOldFriend to your Instagram posts before Sunday midnight so we notice your gehri dosti!
Bloggers are requested to add the mandate line in their post and submit their entry through the submission form for their WOW entry to be considered valid. Remember, you have time only till Sunday midnight to submit your blog posts and have a chance to get the WOW badge!
Include this code:
'This post is a part of Write Over the Weekend, an initiative for Indian Bloggers by BlogAdda.'
Good news! There is now an easier way to submit your WOW entries, so just click on the submission link below for your WOW entry to be considered valid.

Every weekend, we give creative writing prompts for you to write blog posts. Hope you enjoy our creative writing inspiration for this week. 🙂