"You're unique, just like everybody else" is a much used and abused line, but it still rings true. There actually are 7 billion humans on this planet and counting, and each of us has a role to play. How do we know where we fit in the big picture? Through knowledge and sharing. Enter TEDx, the best way to get knowledge of experts and your contemporaries, that will stay with you for a long time.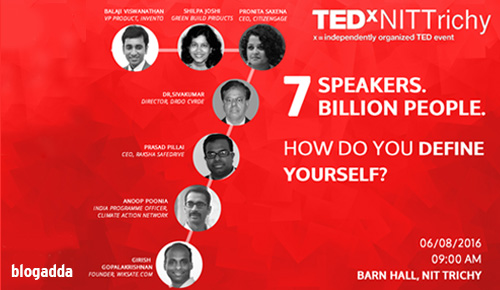 6th August will see a day of engaging sessions at TEDxNITTrichy with a host of speakers like Girish Gopalakrishnan, Anoop Poonia, Balaji Viswanathan, Prasad Pillai, Dr. Sivakumar, Pronita Saxena and Shilpa Joshi. NIT Trichy hosted TEDx in 2015, and after the success of the initiative, are back with the 2016 edition which has the theme, 7 Billion & You!.
BlogAdda is happy to partner with NIT Trichy for TEDx and we're inviting bloggers to attend the event on 6th August. The TEDx sessions are a must attend for those looking for inspiration and ideas, and we'd love it if bloggers from the BlogAdda family attend the event!
If you're interested in getting exclusive access to TEDxNITTrichy, send us a mail on bavity@blogadda.com, and we'll arrange your presence at the event! All you have to do is post a blog post about the event once you're done.
So are you ready to feel connected with the 7 billion of us on this planet? Apply to attend TEDxNITTrichy today!
For more details about the event, check out the TEDx NIT Trichy website.