It's that time of the year again! The time when a group of SHEROES comes together to reimagine the blueprint! Yes, the LLOYD SHEROESÂ Summit 2016 is happening this August across 3 cities – Delhi, Bangalore and Mumbai. This is the fourth edition of the SHEROES Summit and BlogAdda is happy to be their blogging partner!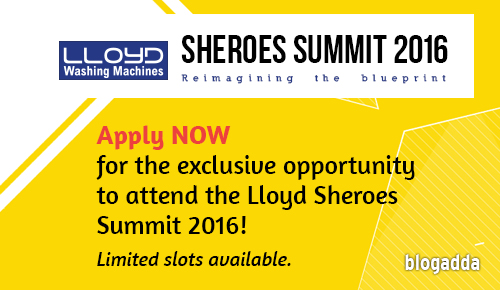 This year, the theme for India's largest forum for women professionals is Work Life Bank Balance, and will focus on the core belief of connecting women with economic opportunities and work-life redesign; to meet one's individual needs and tap into the #FutureOfWork.
SHEROES' core philosophy is to help women professionals gain access to any and all opportunities that they may need or want, from work-from-home positions, to corporate jobs and business prospects. SHEROES provides women access to career resources, information and community sharing. According to them, all women should be able to attain success in their careers and on their own terms.
BlogAdda gives you an exclusive opportunity to attend the LLOYD SHEROES Summit at any of the three locations. This summit will have illustrious speakers like Nipun Singhal, Amit Somani, Ruchi Phool, Bee Rowaltt, Kashyap Deorah, Nithya Shanti and others talk about their experiences and share their successes and learnings with you. If you're interested, please apply by clicking on the button below, and we'll try to get back to you at the earliest.
Apply Now!
During the Summit, you can tweet about the sessions, as the whole country will be watching for updates about the event. After the event, you'll need to blog about your experience at the LLOYD SHEROES Summit 2016. This event is a great opportunity to hear industry leaders speak on a variety of topics, including #FutureofWork. It is also a great chance to network meet like minded people. It is a Summit that will give you insights and ideas for life.
Find more information by clicking on the links below:
1. Delhi Summit (Applications closed)
2. Bangalore Summit
3. Mumbai Summit
We have a limited number of slots available, so apply before time runs out!