They say it's never too late. It's never too late to start again after a failure. It's never late to fight for the love you lost! No matter how much things have fallen out of place, there always will be an open window to mend things back. But does this always hold true? Time waits for no one. There are times when it does become too late for us to act. Moments pass away, taking with them our power to change circumstances. Sometimes, it is too late for us to press 'Undo' on something that we've done, or go back and do something that we hesitated to do in the first place.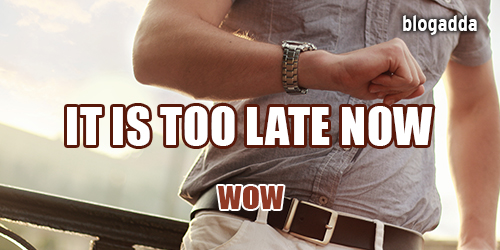 This week's WOW prompt is- "It is too late now"
No matter how much we try to stay ahead of the ticking clock, time surpasses us, winning by a margin. A margin so meagre, yet sometimes big enough to change the course of our lives forever. This week, we want a post that includes the phrase "It is too late now". Write about times when you took time for granted and underestimated its patience. Write about your own experience, a fictional tale or take solace in verses as you write this post. Let's walk down the memory lane of regret and hope together this weekend.
And, here's another twist. WOW us with your blog posts and the top story of the week will get a book from our personal library! So, don't miss out on this chance!
Bloggers are requested to add the mandate line in their post and submit their entry through the submission form for their WOW entry to be considered valid. Remember, you have time only till Sunday midnight to submit your blog posts and have a chance to get the WOW badge!
Include this code:
'This post is a part of Write Over the Weekend, an initiative for Indian Bloggers by BlogAdda.'
Good news! There is now an easier way to submit your WOW entries, so just click on the submission link below for your WOW entry to be considered valid.

Every weekend, we give creative writing prompts for you to write blog posts. Hope you enjoy our creative writing inspiration for this week. 🙂