"I have a dream…"- Martin Luther King's historic lines find resonance with all of us. Our dreams might not be as lofty or earth shattering as him, but dreams all of us do have. Each of these dreams have a story or history attached to them and we're never really at peace till we fulfill them. BlogAdda in association with Club Mahindra presents the #DreamTrails activity that will take you right into dreamland, and who knows, you might just come back with your dream fulfilled!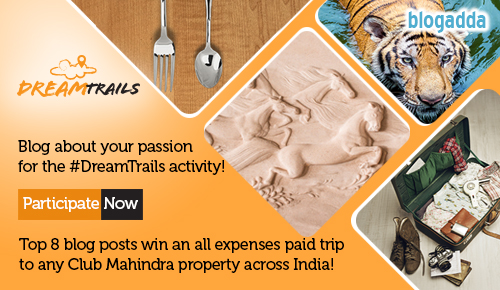 Our dreams and passions are what make life exhilarating for us, making us feel happy, fulfilled and ALIVE. All our lives, we work with the goal of making at least some of our dreams come true. Not any more! We're making your dreams open up their arms to welcome you through the #DreamTrails activity.
Blog about your dreams in the areas of Travel, Food, Art, Culture, Nature and Wildlife. Tell us what you are passionate about when it comes to these aspects of life. Is it being in a strange land that inspires you? Always dreamt of sampling an exotic cuisine? Is your camera yearning to capture the elusive tiger in its natural habitat? Or is it ancient architecture that makes your heart sing songs of the glorious past? Whatever passion is closest to your heart, we want to hear all about it!
Prizes:

Click on the button below to submit your entry!
Mandates for this activity:
1. The word limit for every blog post is a minimum of 400 words.
2. Please include the line, "I am blogging about my dreams and passions for the Club Mahindra #DreamTrails activity at BlogAdda. You can get a Club Mahindra Membership to own your holidays!"
3. Only blog posts submitted through this form will be considered valid.
4. The last date for submission of this blog post is midnight, 2nd August 2016.
5. One blogger can write a maximum of 2 blog posts for this activity.
6. Post at least 1 tweet tagging @blogadda and @clubmahindra, with the hashtag #DreamTrails and share the tweet URL in the form.
We'd also love it if you follow @blogadda on Instagram and post your best photo related to Travel, Food, Art, Culture, Nature or Wildlife, tag @blogadda and use the hashtag #DreamTrails.
Your blog will surely have given you a lot of happiness over the years. Now use it to give wings to your dreams too. Participate before time runs out!