The clouds have finally dropped their anchors over the nation and waking up to a musical pitter patter is a beautiful routine now. The sun seems to be enjoying a vacation after months of overwork. Overall, the days have gotten prettier, work doesn't seem that frustrating, walks on sidewalks seem to be fun and evenings have taken on a mushy tone. When such a beautiful time coincides with an impending weekend, perhaps that's heaven on earth. As the raindrops on the roof create their own symphonies, we are sure you might be thinking of sitting down with steaming pakoras and chai, writing a monsoon inspired post.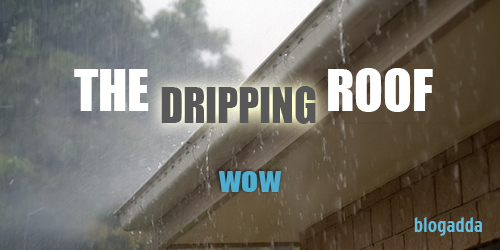 The WOW prompt for the week is – "The Dripping Roof".
With rainy days, come some usual sights – clogged puddles, paper boats and streams flowing along the lanes. Watching rain come down in tiny droplets, meet the tops of houses or trees and then become rivulets is enough to inspire anyone. And inspiration is exactly what BlogAdda wants this weekend.
Pick up your journals or open up your blogs to write stories that pour into your mind when you hear the term 'The Dripping Roof". Does it take you back to your childhood days when running up to the terrace was the first thought or does it bring out a silent desire for the chair next you to be filled by someone special? Does it make you think of faults or does it bring out your playful side? This Friday, give us some impeccable moments of yours as you sit by a dripping roof or see one right through your window and let us all be drenched in your deluge of thoughts.
Bloggers are requested to add the mandate line in their post and submit their entry through the submission form for their WOW entry to be considered valid. Remember, you have time only till Sunday midnight to submit your blog posts and have a chance to get the WOW badge!
Include this code:
'This post is a part of Write Over the Weekend, an initiative for Indian Bloggers by BlogAdda.'
Good news! There is now an easier way to submit your WOW entries, so just click on the submission link below for your WOW entry to be considered valid.

Every weekend, we give creative writing prompts for you to write blog posts. Hope you enjoy our creative writing inspiration for this week. 🙂