India, known for its multitude of cultures and sects, is a platter full of faiths. It is the ultimate canvas of beliefs and denominations, where God is the answer to all problems, the salve for all their injuries, and a gateway for all their wishes to come true. From stones to streams, India is home to innumerable forms that God takes for his devotees. When it comes to faith, logic and reason often take a backseat. We may try asking for scientific proof for the faith displayed, or end up in petty arguments on the 'what's and why's' but the territory of faith is beyond such doubts. Even in the wondrous world of faith and worship, there are certain notable exceptions that stand out as borderline bizarre. Bizarre in the form the deity takes, the fables attached to the worship or the mode of worship itself.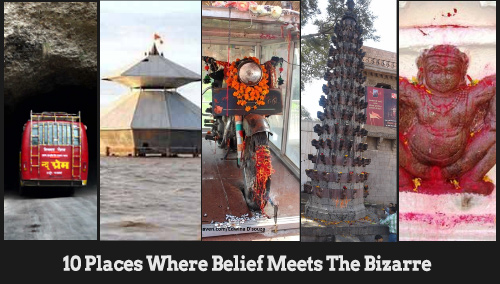 We found these ten fantastic temples that have their own strange, unbelievable and fantastic tales to tell. These places, as unusual they are, explore the infinite depths of belief. Caution: goosebumps ahead.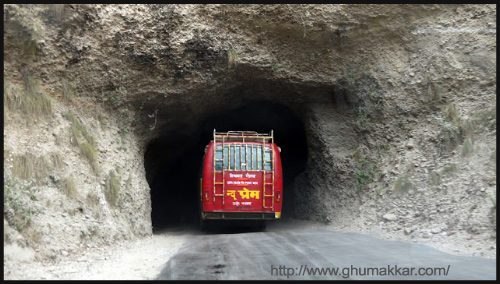 Amidst the hustle and bustle of the buses, thoroughfare and shops is the siddha peeth where Sati's tongue fell. Devoid of any idol or linga, the Jwalaji temple has 7 flames that have been burning since times immemorial. The scientific explanation of a sleeping volcano exists, yet the place is worshipped for the mysterious shakti as a manifestation of God.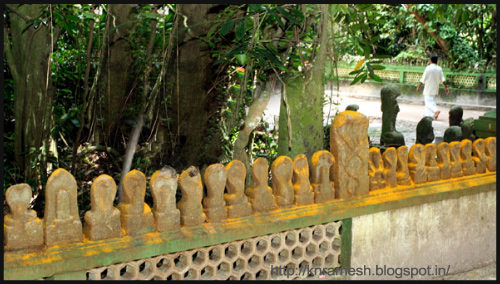 Dedicated to the Nagaraja, the temple is a haven for women seeking fertility. The place is filled with innumerable images and deities of the Naag (Snake God), offered by women upon bearing a child, thereby fulfilling their mannat. A special turmeric paste found at the shrine is supposed to have divine powers. The temple has its own elaborate story with tales of miracles and prayers answered, as told by Ramesh Kn in his account of the visit to the temple.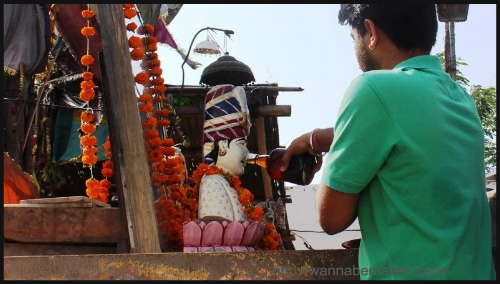 A Royal Enfield might be on the wishlist of many a youngster, but worshipping it might be taking it a bit too far by most standards. Still, ye hai India meri jaan, so nothing is impossible. The sanctorum of the Om Banna temple is a glass case with Om Singh Rathore's Bullet bike inside it. It was erected on account of Om Singh Rathore's accident, after which his faithful(?) bike displayed supernatural powers. With a full time priest, the place is just like another temple. If you have it on your itinerary, don't forget to carry alcohol, for the rituals at the temple might need a bottle.
4. Chilkur Balaji Temple, Hyderabad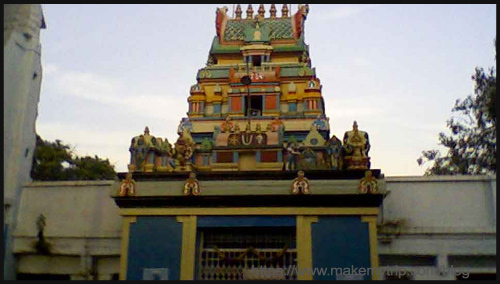 For those of you who have been shuttling between visa offices and travel agents for that coveted stamp, this is perhaps one of your last resorts. This temple is known for possessing super powers for granting visas, especially for the US. So for anyone who needs to cross the visa hurdle on their way to the American dream, you might want to bow down here once! What is even more amazing? You are meant not to close your eyes during darshan-now that's unconventional!
5. Sant Baba Nihal Gurudwara, Jalandhar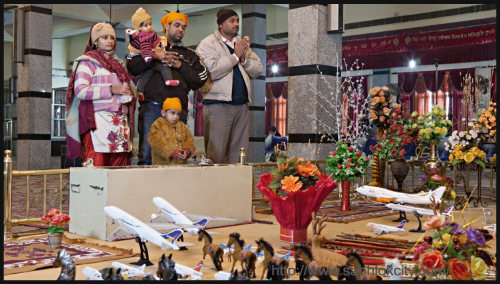 Another in the list of Supreme Beings who want you to indulge in wanderlust or feel that your destiny lies outside India, the 'Aeroplane Temple' is for those who wish to leave the country forever. Devotees can offer a toy plane to thank God once their dreams come true. It might sound a little absurd but the Gurudwara actually has quite a collection of toy aeroplanes! We're sure that children would be the most excited to visit this hatke holy place.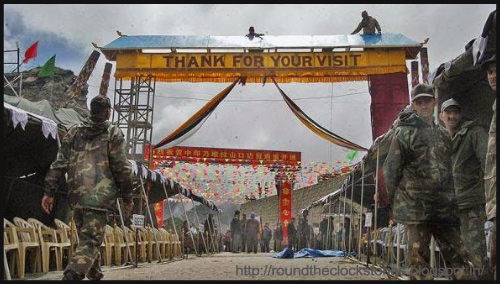 Our country is full of stories of bravery and valour at the borders, yet this tale is an intriguing one. Baba Harbhajan Singh has been keeping his love for the country alive even after sacrificing his life for it at a young age. The temple is set up in his memory and soldiers claim that his spirit warns them about lurking dangers. Also, soldiers stationed near the temple change his belongings frequently and treat him as omnipresent.
7. Karni Mata Temple, Rajasthan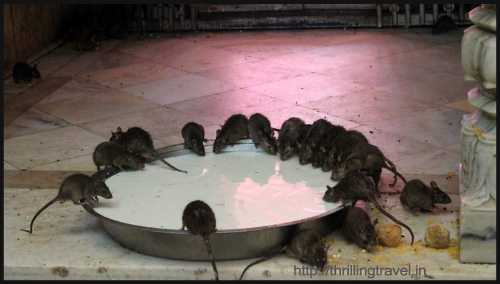 While rats are normally treated like vermin, this temple is a paradise for 20,000 rats! The temple houses a Karni Mata idol, while there are rats snoozing all over the floor and if a rat scampers over your foot, you are kissed by luck! The devotees are believed to take up food left by the rats, considering it as auspicious. For the ones with musophobia, we hope God understands you for putting this off your list!
8. Kala Bhairav Mandir, Ujjain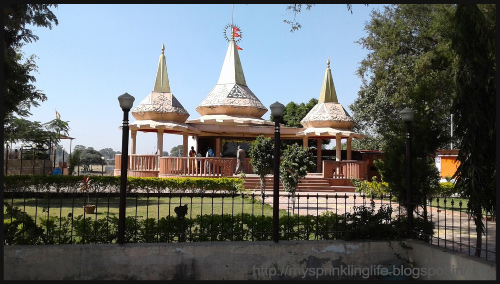 Replete with ash smeared faces of sadhus is the city of temples, Ujjain. The city is known for its popular Kumbha Mela and the astonishing temple of Kalabhairava. The deity is known to consume alcohol, an enigma that nobody has been able to explain till date. The idol is said to consume gallons of alcohol which devotees are only too happy to offer, which is one of the biggest draws of this temple.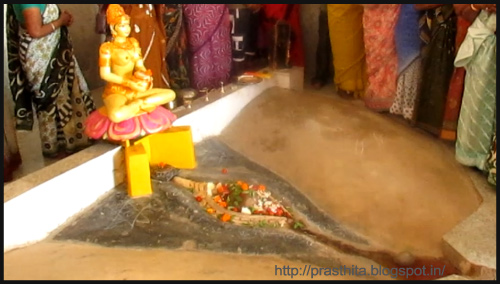 One of the oldest of the 51 'shakti peeths', the temple is a holy abode for Tantric worshippers. Unlike usual temples, the reason why this temple makes the list is the deity of the Bleeding Goddess – Kamakhya, who is said to bleed once a year, turning the river Brahmaputra red for three days. While the temple is closed for those days, the holy water is distributed among the devotees. As bizarre it may sound, the temple definitely shows the way for the respect that women and their natural cycles should command.
10. Pir Qamar Ali Darvesh, Pune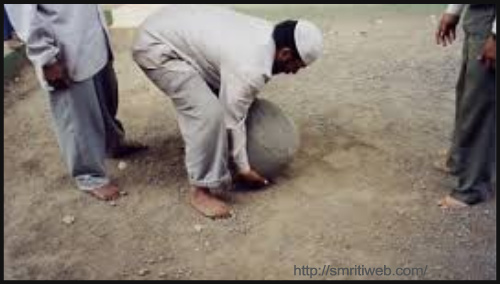 Faith instills a sense of trust in us that there is an ultimate power that is beyond all. At this Dargah in Pune, this faith takes a completely puzzling form, making us wonder about the unexplored boundaries of the supernatural. The Dargah is known for the 250 kg stone that rests in front of it, which can be lifted and thrown to a height of up to 8 metres, but only when touched by a certain number of devotees chanting the name of the Pir. If you are equally mystified, the place definitely deserves a personal visit.
Since it has been a tale of faiths, we decided to end our mystical jaunt with little bit of extra prasad!! Although the temple below has no unconventional rituals, yet we found this place intriguing enough and worth a mention.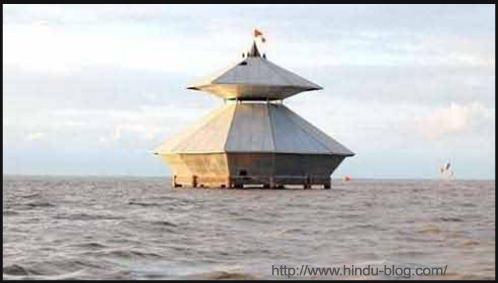 The Stambheshwar Temple, also known as 'the submerging temple' is one of the most unusual shrines of Shiva. Sandwiched between the Arabian Sea and Bay of Cambay, the temple remains under water during high tides, allowing only a few hours of devotion to its worshipers. Well, if you plan to visit this one, make sure you are well in sync with the tides!
No matter how eerie these rituals may sound, we would like to believe they are wrapped in pure belief in the Supreme Power and a genuine prayer for abundance and goodness in the world. What is your opinion about the strange shapes that faith in India reveals itself? If your city has an equally notable temple filled with devotees that go beyond the conventional lines of worship to please the gods, let us know, we'll surely make a visit!
Also visit our YouTube channel and watch the visual ride of these places!