Touch – the very word sends shivers of sensation down the spine. A mere mention creates some tantalizing moments ringing multiple bells in the back of our minds. Touch through a single instance can strike a random chord – untainted, it communicates waves of compassion or send an army of tickling butterflies in the stomach. Hailing from the unknown, it creates tornadoes of doubt or guilt to tearing a soul from its own perfect world. One touch and your brain knows it all. Touch has stories to tell, for its repercussions never leaves the insides of our mind. There are some touches so different, that we cannot forget how they made us feel. Would you like to write about them for WOW?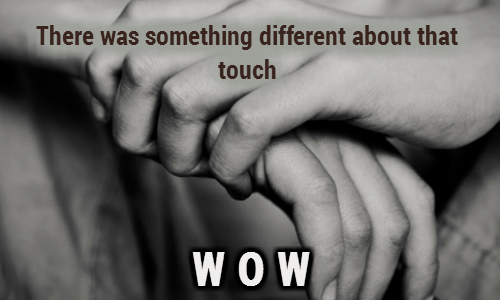 This week's WOW prompt is -"There was something different about that touch"
There have been times when a single touch created a space of its own – a touch like never before, a touch that you were not acquainted to. Whether it was a mere nudge, a funny poke or a contagious joining of skins, we all have a story that stems from a touch. This weekend we want you to wear your creative hats and tickle our senses with your touch. We mean with a WOW blog post on touch. Give us a creative write up that contains the WOW prompt and take us on a thrilling ride of your thoughts. Be it the old times when love bloomed for the first time or a scary unknown feeling that you have known for so long now. Give us a glimpse of that 'different touch' through your words and let us dive in the ripples it sends within you.
Bloggers are requested to add the mandate line in their post and submit their entry through the submission form for their WOW entry to be considered valid. Remember, you have time only till Sunday midnight to submit your blog posts and have a chance to get the WOW badge!
Include this code:
'This post is a part of Write Over the Weekend, an initiative for Indian Bloggers by BlogAdda.'
Good news! There is now an easier way to submit your WOW entries, so just click on the submission link below for your WOW entry to be considered valid.

Every weekend, we give creative writing prompts for you to write blog posts on! Hope you enjoy our creative writing inspiration for this week. 🙂